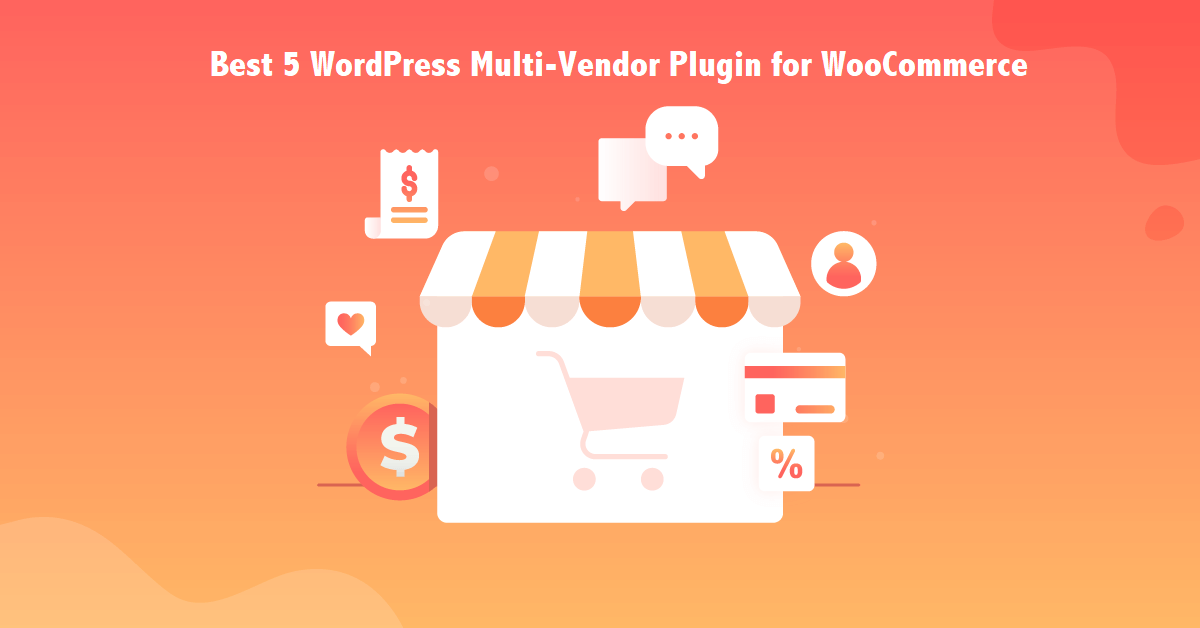 5 Best WordPress Multi-Vendor Plugin for WooCommerce in 2022 [Updated]
Are you looking for the best WordPress Multi-Vendor Plugin for WooCommerce? Here you are on the right way.
Creating a multi-vendor eCommerce store not so easier. But with WordPress Multi-Vendor Plugin for WooCommerce, it is easier and fastest than ever. These plugins are easy to use and implement, so even a beginner can handle them.
Today in this article, we came with a list of the 5 best WordPress Multi-Vendor Plugin for WooCommerce. Just go through the article and get the best one for you as per your requirement. With these multi-vendor plugins, you can build an amazing online store that impacts several users out there. You can also able to create websites like Amazon, eBay, Alibaba, and many other popular eCommerce websites.
So, let's get started:
Best WordPress Multi-Vendor Plugin for WooCommerce
Dokan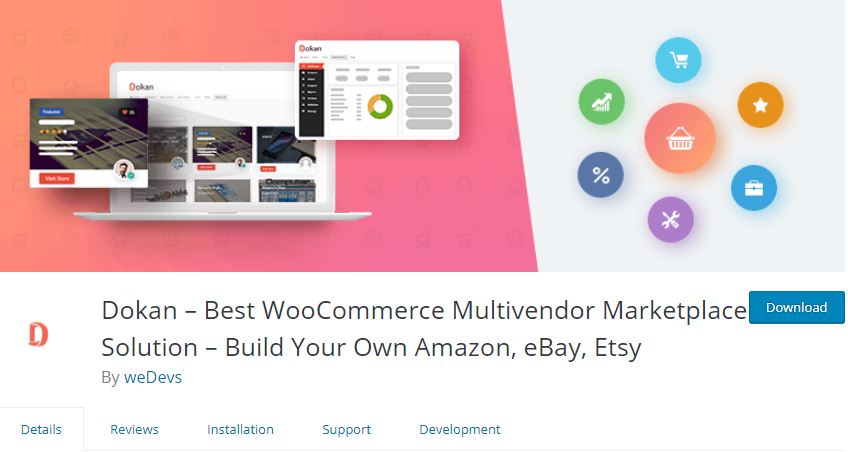 Here the list started with Dokan. It is an amazing WordPress Multi-Vendor Plugin for WooCommerce. Dokan is the option for those who want to build a digital marketplace with multi-vendor functionality. The plugin helps you to build your own marketplace similar to Amazon, Shopify, eBay, Magento marketplaces in under 30 minutes.
Now the plugin has more than 60K active installs which clearly shows its popularity. While talking about its performance, it works smoothly for WordPress 4.4 and above. It will provide you regular updates, now no need to worry about bugs and neither your site will slow down.
Pros:
Comes with an intuitive interface
Compatible with all WooThemes
Supports 15+ languages
Vendor's custom rates are available in paid plans
Easy to use and configure
User-friendly features
Option to duplicate Product
Compatible with multiple payment options
Ajax Live Search integration
Built-in geolocation feature
Cons:
Support will be delayed
Issues regarding payment gateways
Pricing:
Free version: Comes with basic features
Starter Pack: It costs $104/year. Also, allows commissions for 1 Site License
Profession Plan: It costs $162/year. Offers 9 premium modules, 3 site licenses, and a few in-built payment gateways.
Business Plan: it costs $299/year. Comes with 17 premium modules and 5 site licenses.
Enterprise Plan: It costs $549. The plan includes 20 site licenses and 17 premium modules.
WCFM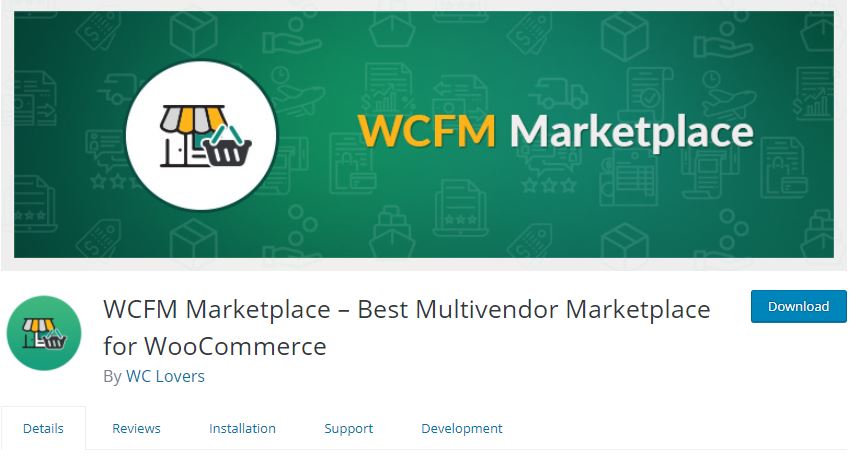 WCFM, a popular WordPress Multi-Vendor Plugin for WooCommerce is the second choice after Dokan. And it all because of its flexible features. WCFM is developed by WClovers and able to grab more than 30K active installs. If you implement this plugin, no doubt, you are getting an amazing online store to grow your business.
The best part about the plugin is, it helps you set flexible rates for vendors weekly, monthly, or anytime. If you are arranging commission, you are free to choose the commission based on the percentage, fixed-rate, sales, purchase quantity, and more. WCFM is available in both free and premium versions, so get the one as per your requirement.
Pros:
Comes with a custom front-end management dashboard
Different commission methods like percentage, fixed, store, quantity, and others
Flexible and user-friendly features
Advanced functionalities for shipping zones
Allows you to include membership
Enables Vendor to add articles
Option to create coupons
Manage vacations for added transparency
Flexible rates for vendors
Cons:
No powerful support system
Pricing:
1 year: $49/ site and for 5 sites, it costs $89
3 years: $99 for 2 sites
Lifetime: $199 for 2 sites and $299 for any number of sites for a lifetime
WC Vendors Marketplace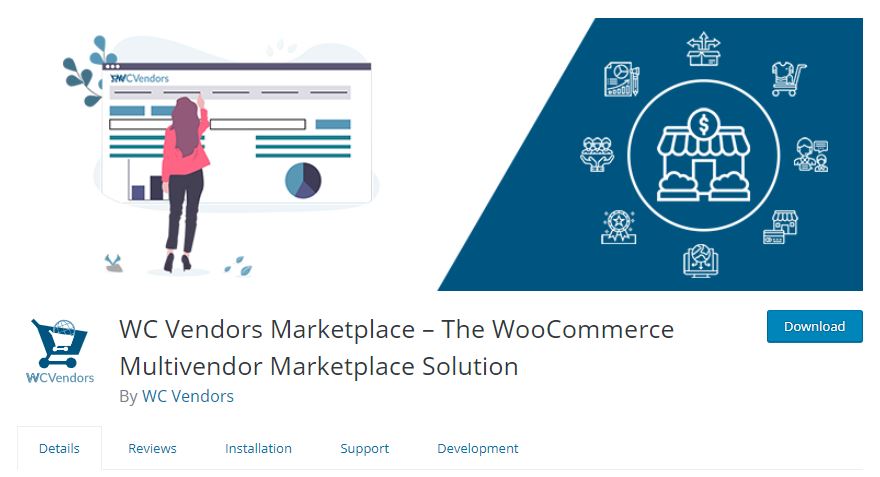 Likewise, WC Vendors Marketplace is the best plugin to start your eCommerce marketplace. You can use this WordPress Multi-Vendor Plugin for WooCommerce for online art galleries, farmer markets, cooking classes, furniture, and many other market functions. Here you will get regular updates and splendid features. This will help you to attract more traffic which means top SEO rank. As a WC Vendor Marketplace supports digital and downloadable products, you can customize your store in an impressive way.
In its free version, you are getting supports related to the charging commissions based on percentages. If you want to add some additional features, you can simply upgrade to a premium one. Also, the plugin offers vendor-specific shortcodes, you can utilize it to show customer's seamless admin experience.
Pros:
SEO Optimized
Creates user-friendly vendor store
Easy to customization
Built with powerful admin dashboards
Comes with a comprehensive commission module
Label-printing is available
Vast product management module
Unlimited Vendor
Provides percent-based commission
Outstanding support team
Cons:
Licenses required for one domain
One staging site
Multi-site licensing is not available
Pricing:
Free plans
Basic: $199/per year
Product Vendors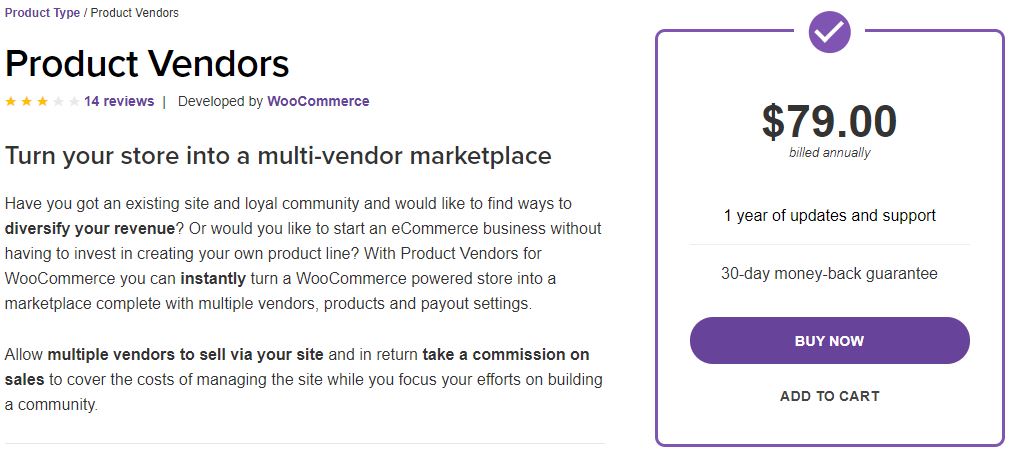 Moving forward, Product Vendors is the next WordPress Multi-Vendor Plugin for WooCommerce. The plugin allows you to sell through a WooCommerce store and charge commissions for the sales. If you are willing to instantly turn your existing WooCommerce store into a multi-vendor WooCommerce store, the Product vendors plugin is just for you.
Since the plugin is developed by the WooCommerce team itself, you will get a powerful security system. Even you upgrade your single-seller store to multi-vendor, you are still able to sell your own product as you were doing before.
Pros:
Comes with powerful profile/sub-site
Attractive dashboard
Option for sales and vendor management
Vendor management is done by one or multiple vendors
The vendor is listed as per ratings
Efficient sales reporting
Continue selling your own products
Feature-rich vendor management
Intuitive Commission List Management
Selectively show vendor information
Cons:
Not suitable for building multi-vendor stores
Fewer and complex options for payment gateways
Pricing:
The plugin is available from WooCommerce at $79/year.
YITH WooCommerce Multi-Vendor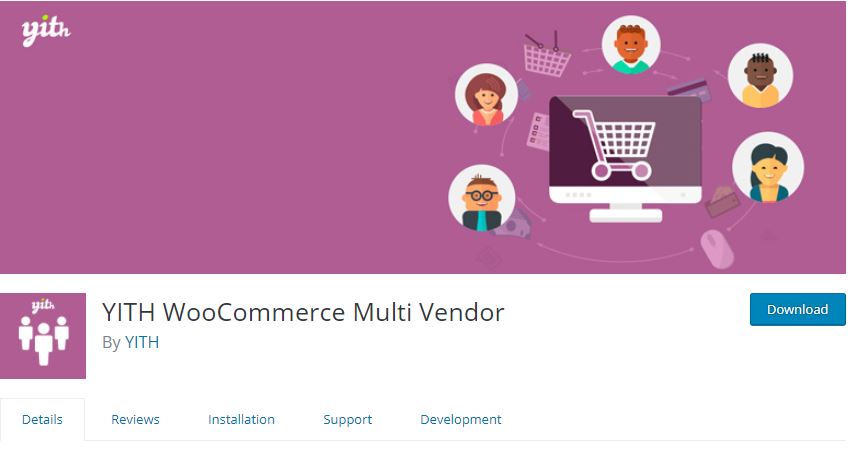 Last but not least, YITH WooCommerce Multi-Vendor, the only plugin that takes all the work off your hands. It allows you to earn a lot from your commission. This WordPress Multi-Vendor Plugin for WooCommerce comes with YITH excellent option. With this, you can easily manage your media galleries, products, and even personal information. When your vendor enters, they have to accept your commission payment policies.
YITH also comes with powerful widgets to enhance your shop's functionality. Its Multi-Vendor is available in English and Italian too. Moreover, it is compatible with WPML compatible, as well as it is translation-ready. Here you will get different features like management of orders, shipping, and order refunds.
Pros:
Helps vendors to build SEO-friendly stores
Include all capabilities within an e-commerce store
Easily handles vendor payment cycles
Look after commission-related customizations
Improve stores' efficiencies
Shipping and refund management is impeccable
Translation ready
Manages your media galleries
WPML compatibility
Cons:
You need to purchase another plugin to enable front-end capabilities
Lack of various payment options
Pricing:
Free version
Annual subscription: $99.99 for Single-Site, $299.99 6 Sites, and $699.99 for 20 Sites
Conclusion
Finally, we did with all listed WordPress Multi-Vendor Plugins for WooCommerce. All the above plugins come with outstanding features and a user-friendly layout. Implement any of the WordPress Multi-Vendor Plugin for WooCommerceplugin for your website and create a powerful online store.
Hopefully, you get this article helpful to you. If you are getting any issues, feel free to send us your queries. You can send your question through our comment section. We will get back to you as soon as possible.
Stay tuned and keep following us on Facebook and Twitter for more interesting articles.
Categories
ecommerce wordpress themes