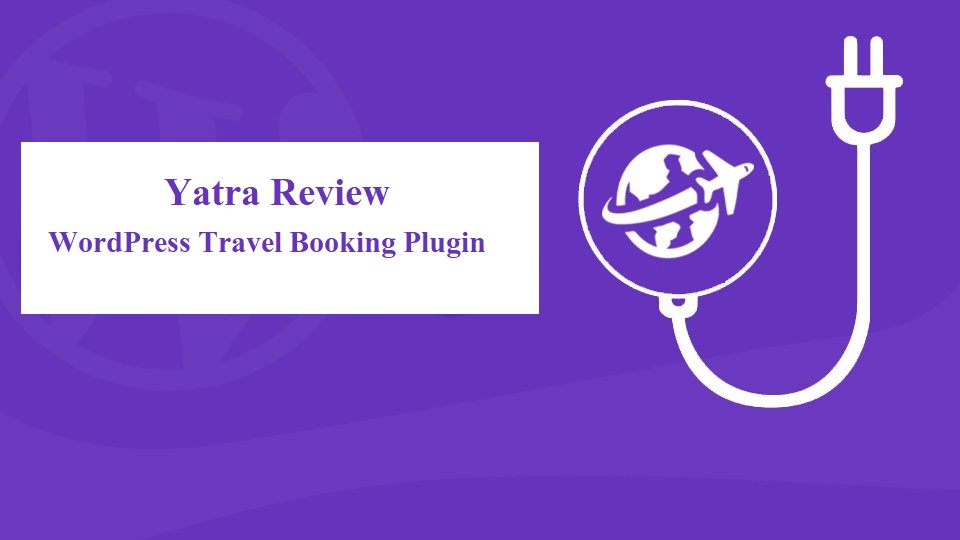 Yatra Review, a Popular WordPress Travel Booking Plugin
Are you searching for WordPress Travel Booking Plugin? Here, you have landed on the right page. This article is all about one of the best WordPress Travel Booking Plugins. It is none other than "Yatra".
Yatra is one of the best options if you are about to develop a travel website. The plugin is specially created by keeping travel bloggers and travel booking in mind. Yatra is a WordPress Travel Booking plugin and we all know creating and maintaining a website with WordPress is far better. With Yatra, we are getting several amazing features that help us to create a powerful and well-managed travel booking website.
Talking about its team, they are very supportive and are always ready to solve your queries. Whenever you fetch any issue, you can directly contact them and solve it.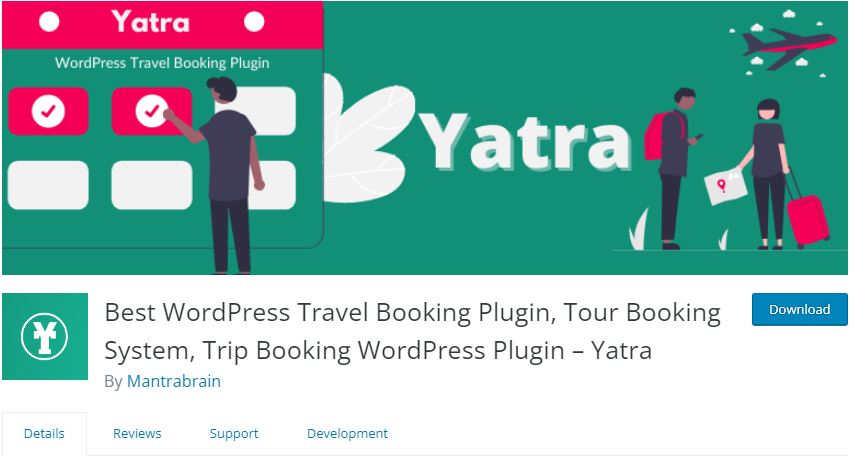 So let's see what are the key features of Yatra, here we go:
Key Features
Fast user Interface
Built with a flexible layout
Comes with option for activity and destination
Offers unlimited FAQ
Beginner-friendly
The Premium version comes with flexible/dynamic pricing
Provides custom attributes
Well, there are many more amazing features that make the Yatra plugin popular and advanced. Here, we have described below:
Features Of WordPress Travel Booking Plugin
Attractive Packages for Travel and Tour
We require multiple options when it comes to travel and tour. And with Yatra, you are getting different amazing features and options which make your traveling site attractive. This WordPress Travel Booking Plugin will add different packages for traveling which will attract your visitor's attention. So be flexible to add as many tour packages as possible. Inside packages you are allowed to add options like description, itinerary builder, price, sales price, duration, gallery, package included and excluded, map, and many more.
Customization And Flexibility
If you want a flexible plugin for your traveling website, you must go with Yatra. Despite this, it is also easy to customize. Now you can customize your site in a way you require easily with this WordPress Travel Booking Plugin. Yatra comes with different hooks and filters which is the main reason behind its flexibility. You make a flexible and customizable traveling website only with Yatra as per your requirements.
Easy To Book Traveling Plans
Most of the time, we prefer online booking. And when it comes to our traveling, we look for a better yet easier way to book our packages. Yatra is built with easy-to-use features that will help you to book your travel plan smoothly. The travel booking website with Yatra is not only easy to use but gives you an amazing experience. Everything can be done smoothly, even a layman can visit and book their traveling plans easily.
Eye-Catchy Content
What makes your site attractive? Well, it obviously it's content. So if you want more traffic, you need to create eye-catchy content. And for this, Yatra will be the perfect plugin. The plugin will help you to customize your site with eye-catchy content and attractive design. Here, you will get several google fonts and an attractive design layout.
Translation Ready
With Yatra, now you can create a travel booking website in your own language. This will help you to attract your local users. Language may sometime create problems to understand, but not anymore. Being a translation-ready plugin, Yatra will help you to attract more users.
Premium Extension/addon
PayPal Payment gateway
Yatra is integrated with the PayPal payment gateway. Once your user books their travel plans, they can make their payment with a Paypal account which is one of the secured gateways.
Extension/Addons for Premium Version
Yatra Stripe
Yatra Stripe is an amazing addon of Yatra which is available in its premium version. Since it is a payment gateway of stripe.com, you will get support for your credit/debit cards. The add-on allows you to make your payment with easy access. If you want to use this extension, you need to assure, that your website an has SSL connection.
Yatra Authorize.Net
Another premium addon of Yatra is Yatra Authorize.net. It provides you support for different types of credit/debit cards. Yatra Authorize.Net is a user-friendly add-on, now even beginners deal with it and book the tour package. You can easily make payments with your credit/debit card.
Yatra Razorpay
Likewise, Yatra Razorpay also supports a payment gateway of Razorpay that helps you to make payments via different credit/debit cards and banks.
Yatra Partial Payment
Want to get a partial amount from the traveler? Yatra Partial Payment will be the best option. With this, you just need to set your required percentage of money to deposit.
Yatra Downloads
To support your users, you can attach different files regarding traveling plans. WIth Yatra Downloads, you users can download those files from the front. Believe me, this gateway is just a wow factor for any travel booking website. It allows you to add anything from brochures, and tour guidelines pdf files to other costing details files.
Yatra Services
With Yatra Services, you are allowed to add cleaning and other extra services. This will make your tour package powerful and provide better services to your clients. Also, the add-on allows you to customize the price of your traveling packages.
There are many more premium addons/extensions to the Yatra plugin. All those will help you to make a better and more managed travel booking website.
How to install Yatra?
Yatra is an easy-to-use WordPress Travel Booking Plugin. Anyone with basic information can download and install the plugin. You can install it with the following steps:
Go to the plugin area of your admin panel
Click on add new button
Type Yatra search box
Click on the install button
Wait for a couple of seconds and click on activate button
Yatra is successfully installed on your website
Now, you can start using the Yatra plugin to create your travel booking website.
Conclusion
This is all about Yatra, an amazing WordPress Travel Booking Plugin. It is really an amazing travel booking website that comes with several powerful features. Since it is easy to use the plugin, even a beginner can customize their traveling website by adding elegant features.
Hopefully, you find this article useful. Feel free to contact us if you have any queries. We will get back with your answer as soon as possible.
Follow us on Facebook and Twitter for more interesting articles.
Also, have a look for Free WordPress Travel Plugins.
Categories
free WordPress travel plugins