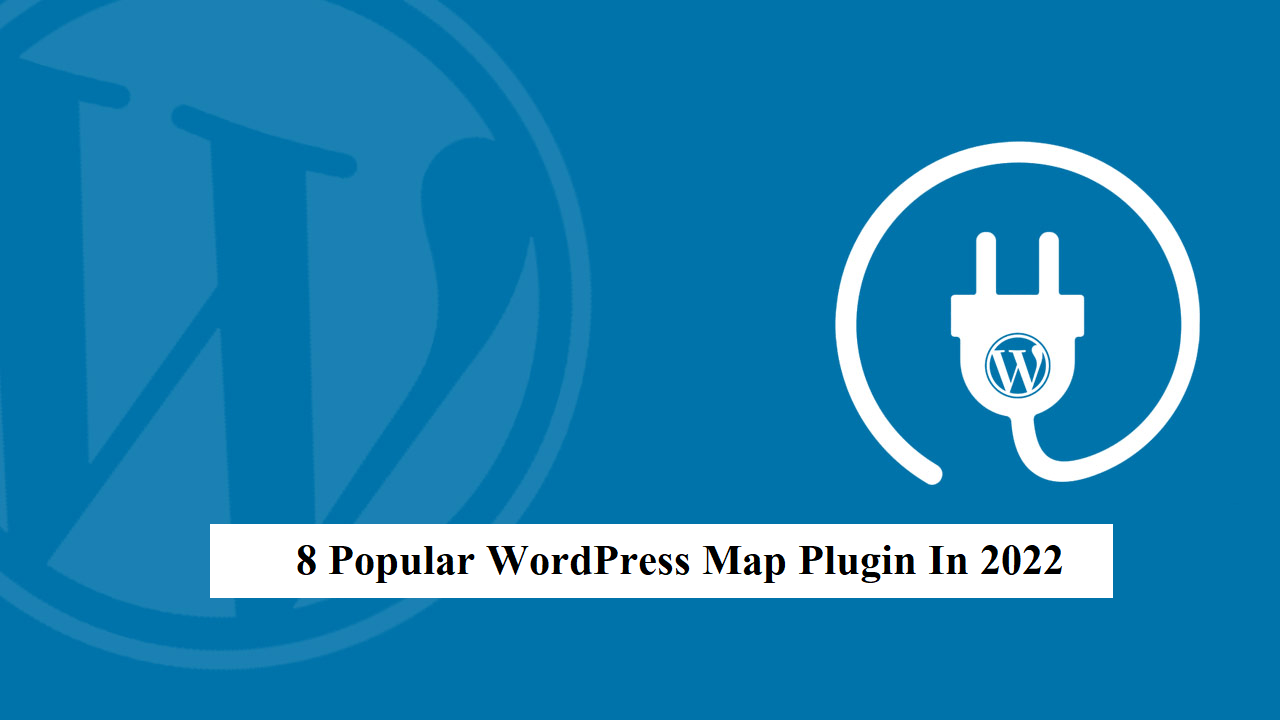 8+ Popular WordPress Map Plugins In 2023
Are you searching for a proper blog for the best option for WordPress Map Plugin? If yes, you are in right place.
Whenever visitors landed on your business site, they want to know about your physical location. And this is the reason you will require a map plugin for your site.
Are you thinking, you can just mention the address of your site in the footer? You can do this but what if your visitors are newbies who are not familiar with that place. If there is a map attached to your site, any visitor can visit your office easily.
So, it is essential to link the map address of your office to your site. So to attach the map address, you will require a WordPress map plugin.
In this article, we are going to discuss a few WordPress Map Plugins which will provide you with several amazing features.
WordPress Map Plugins
Geo Maps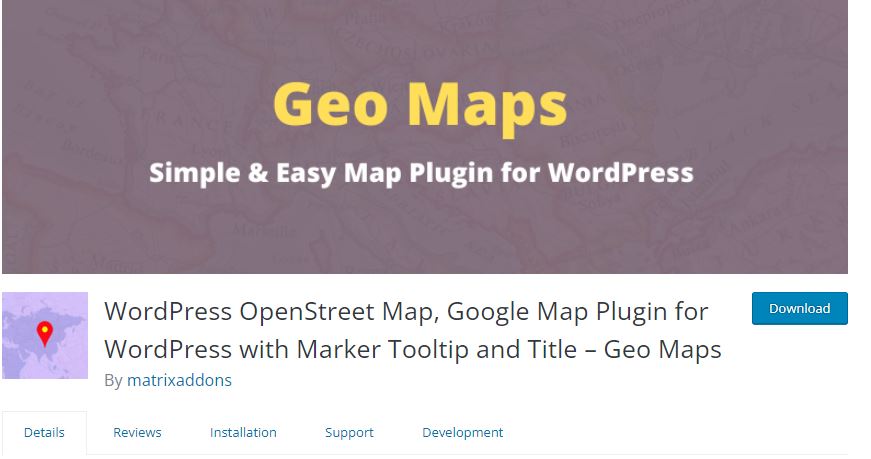 Here, the list started with Geo Maps. It is one of the easy-to-use WordPress Map plugins. It comes with an unlimited marker tooltip feature that really helps you to build an amazing map for your site. With this, you can create an interactive map with easy access. Geo Map supports OpenStreet Maps and Google Maps which help you to customize your site maps.
Features
Easy to use
Comes with unlimited Map Markers
Support from OpenStreet Maps
Provides shortcode support
Option for marker popup on hover
Comes with a draggable Marker to create latitude and longitude
Interactive Geo Maps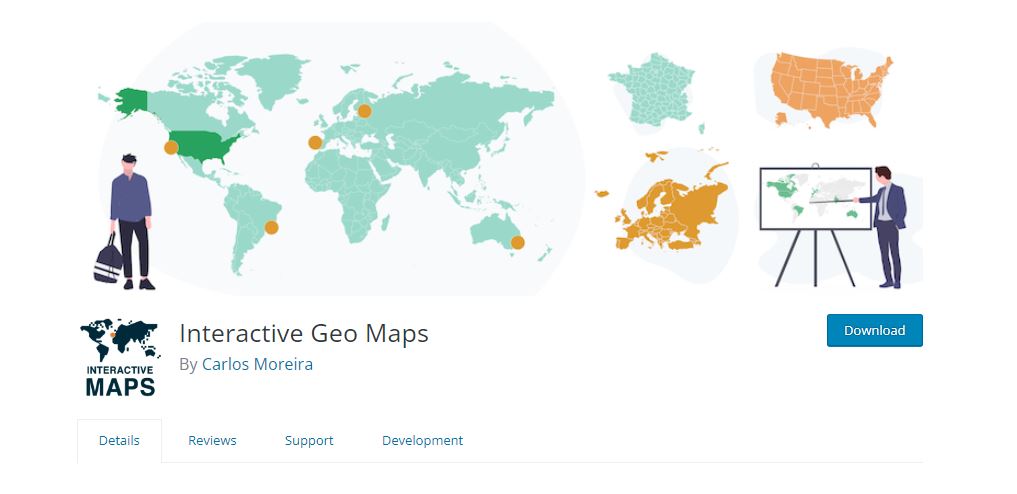 Interactive Geo Maps is a freemium plugin but still packed with amazing features. With this, you can implement customizing and extending functionality maps to your site. Whether you are a travel blogger or a real estate agent, Interactive Geo Maps will be helpful for everyone.
Features:
Packed with unlimited responsive maps
Provides advanced zoom options
Option for map projections
Colored legends and colored markers
Comes with live filters
Tooltips and text labels
MapSVG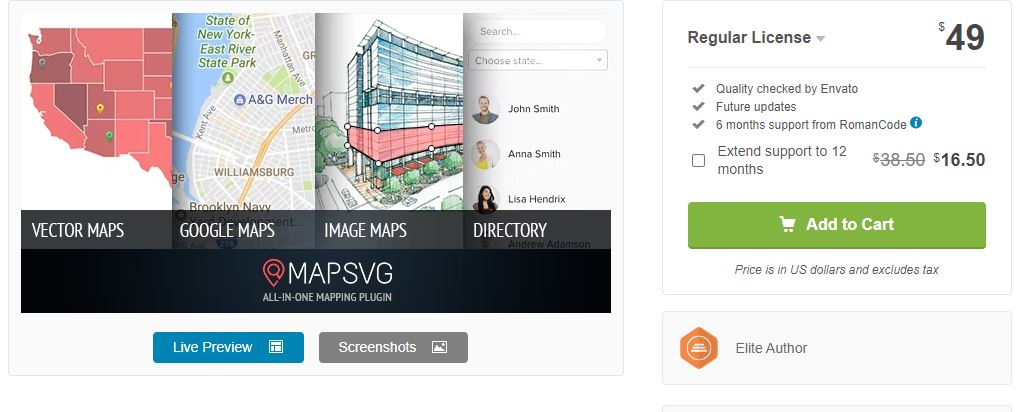 MapSVG is one of the best Google map highlighter plugins. It helps you with interactive vector maps, image maps, map-based statistics, and many more. The plugin allows you to convert any png/jpeg image into a highly interactive map. And for this you can use tooltips, pop-ups, highlighting, region greying, and others. Here, you will find a wide range of customizing options with which you can create really an informative map. MapSVG provides you options like shades of color based on a statistic range, image attachment to regions and objects, custom Google map styles, filters, and others.
Features:
Easy access to Google maps, Vector maps, and image maps
Nifty tooltips and popups
Allows you to create beautiful templates for Tooltips and popups using HTML
Create a list of objects using custom fields
Custom markers and SVG files
Allows you to mix customizable interactive elements
Maps Marker Pro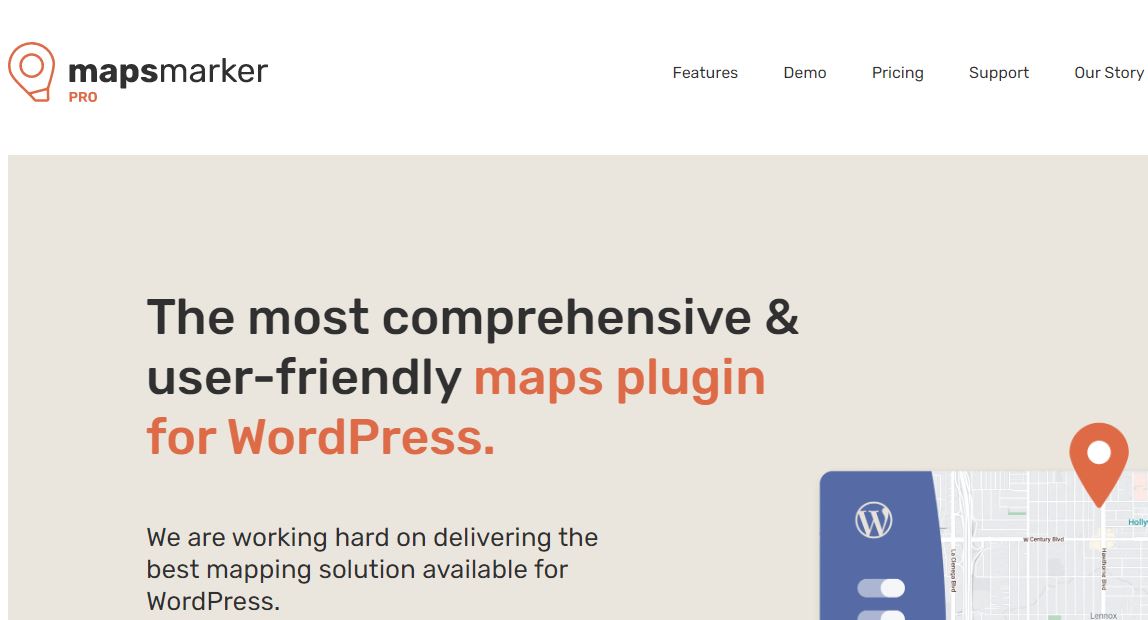 Likewise, Maps Marker Pro is one of the most popular premium WordPress map plugins. It allows you to build different kinds of maps for your site. With this, you can add multiple locations and custom markers. Moreover, it includes amazing Maps Marker Pro also offers multiple base maps, including Google Maps, Bing, Mapbox, OpenStreet Map, etc.
Features:
Easy access to create multiple types of maps
Supports TomTom Geocoding, Google Geocoding,
Easy map navigation
Animated marker clusters for each map
GPX tracking
Option to share maps offline through QR codes
MapifyPro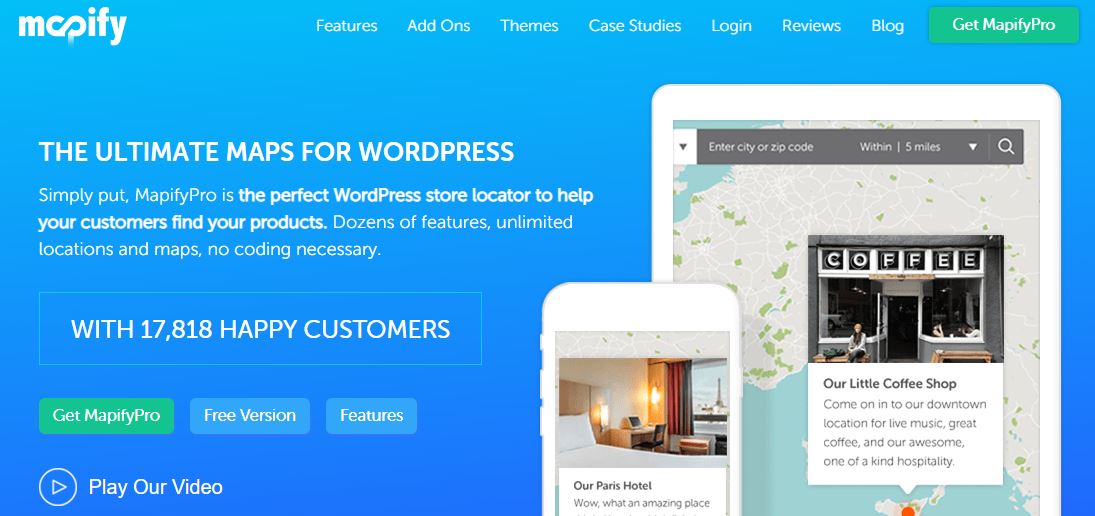 MapifyPro is a popular premium WordPress map plugin. You can implement the plugin to add a store locator to your website. It is mostly used to integrate Google Maps with your website, but you are allowed to use it for your own custom maps. Now you can not only add zooming and panning features but also can provide directions to specific markers.
Features:
Comes with responsive maps with unlimited locations
Pins with tooltips and hover boxes
The option to add hotspots
Custom markers and animations
zooming and panning features
Image and video support
5sec Google Maps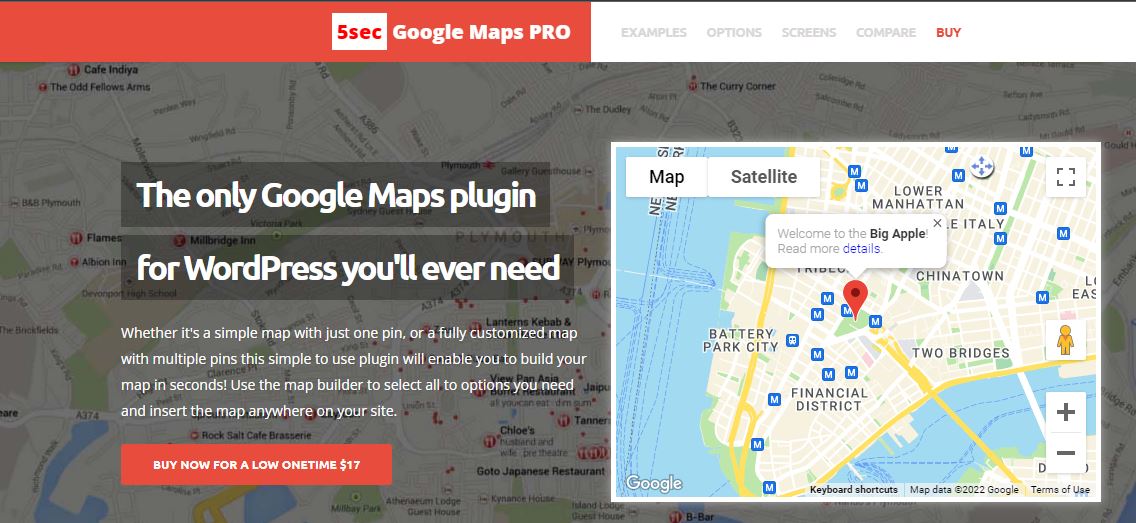 Similarly, 5sec Google Maps PRO is a premium WordPress map plugin. The plugin makes it easy to add maps to your website either with shortcodes or with a dedicated widget. I think this will be quite a great option to keep your business location visible across your site in your sidebar or footer. Moreover, the plugin offers a visual map builder to create custom maps in a quick and efficient way.
Features:
Unlimited map markers
Dedicated map widget
Amazing library of marker styles
Unlimited color overlays
Build with text boxes for labeling markers
Pre-built directions form
Google Maps Widget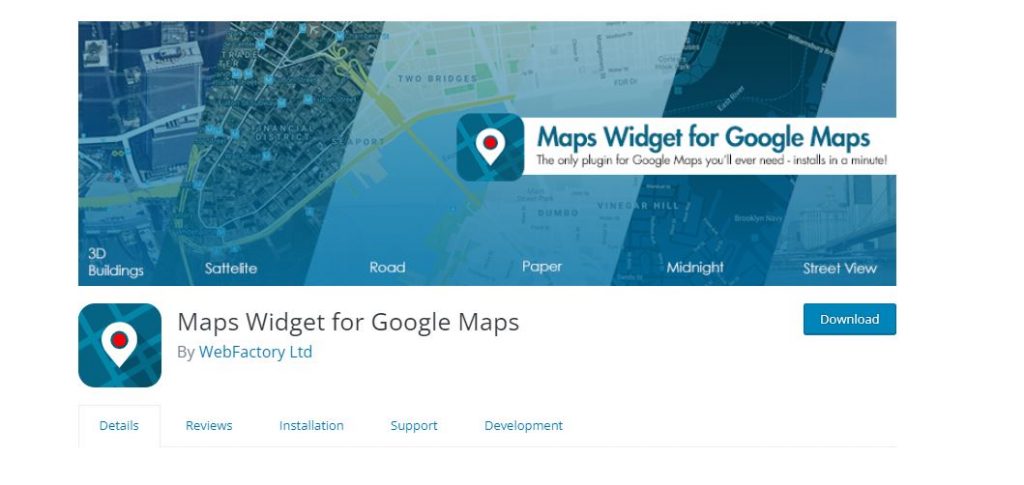 If you are looking for an ultimate useful and handy WordPress Google Maps plugin, Google Maps Widget is the best option. It is an amazing way to integrate locations into your site. Now you need not wait anymore for hours to set up. Since it is extremely easy to use, even a layman can easily handle it.
Features:
Comes with customizable options
Custom Pin Icons option
Interactive Google Map
Translation ready
Allows you to change the Map color scheme
Interactive layout
Google Maps Easy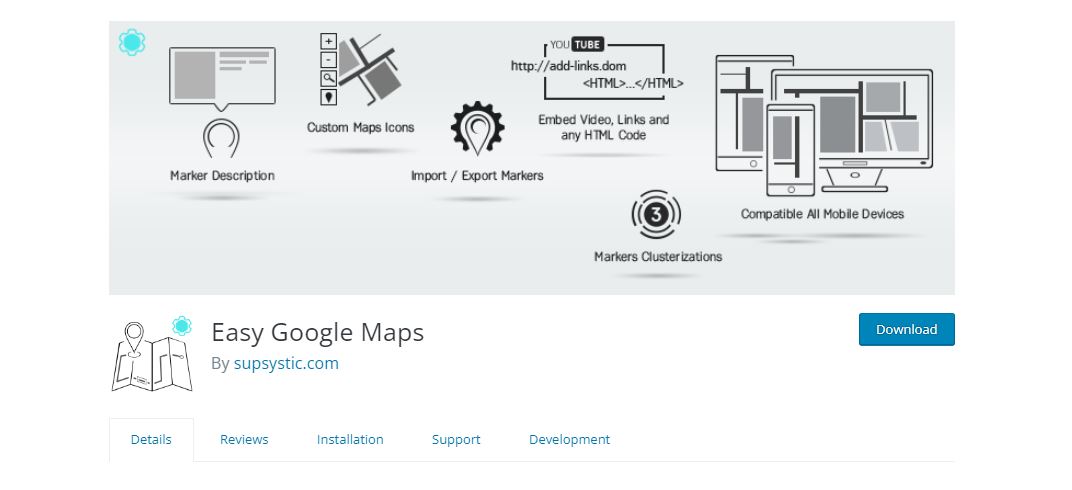 Moving forward, as per its name, Google Maps Easy is the popular and easy-to-use WordPress Map plugin. It helps you to create online Google maps in WordPress with easy access. As the plugin comes with both Free and Paid versions, you can upgrade it as per your requirement. The best part is, that it allows you to add Google Maps with a shortcode, open it in a pop-up and use the Google Maps widget.
Features:
User-friendly layout
Mobile responsive design
Unlimited map markers and locations
Map marker description: Image, video, email, text, or phone number
Uses shortcode or PHP code to add maps
Import and export map markers easily
MapPress
Last but not least, MapPress is a free and easy-to-use WordPress Map plugin. It allows you to add Google Maps to a WordPress website in a proper way. Moreover, you can also create interactive Google and Leaflet maps. If you visit its Lite version, it allows you to create unlimited maps and add them with a modern and classic editor.
Features:
Free and easy to use
Packed with a shortcode, widget, or Gutenberg block
Allows you to create latitude and longitude coordinates
Zoom level for the map
Custom map markers
Build maps based on custom fields
Conclusion
And it's all about the WordPress Map plugins. We tried to gather a few amazing WordPress Map plugins to add a location to your site. Believe me, these all are packed with several outstanding features. Please go through the article and find the best WordPress map plugin for your site.
Also, check out our detailed guide on Popular WordPress Popup Plugins
If you like the article, then please follow us on Facebook and Twitter.
Categories
Uncategorized