10+ Best WordPress Security Plugins in 2022 [Updated]
Do you have your WordPress website? Are you searching for a WordPress security plugin to keep your site secure? If yes, you are in the right place. Today in this article we are going to discuss some useful WordPress security plugins. We all know how important is to secure your site from unauthorized access, don't you? Such plugins add authentication to your site which keeps your site away from several harmful scams.
From thousand of plugins, I came with a list of 10+ WordPress security plugin for your site. So go through this article and get the best option for your site protection. Let get started:
1. Sucuri Security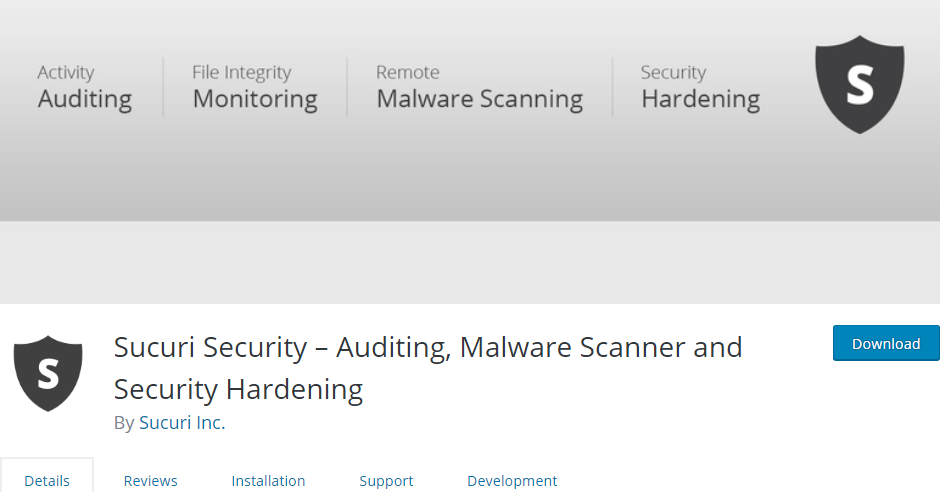 Sucuri Security is the perfect WordPress security plugin that offers several amazing features. It offers actionable steps to help you proceed with repairing any damage to your site. The plugin is available in both free and paid versions but still, the majority is with a free one. Here you can see a security activity auditing which will show how well the plugin is protecting your website from unauthorized access. Not only that, but Sucuri Security also comes with file integrity monitoring, blacklist monitoring, security notifications, and security hardening.
Features:
Offers multiple variations of SSL certificates
Customer service through instant chat and email
File integrity monitoring
Provides advanced DDoS protection
Free table tools for blacklist monitoring, malware scanning, and security hardening.
2. iThemes Security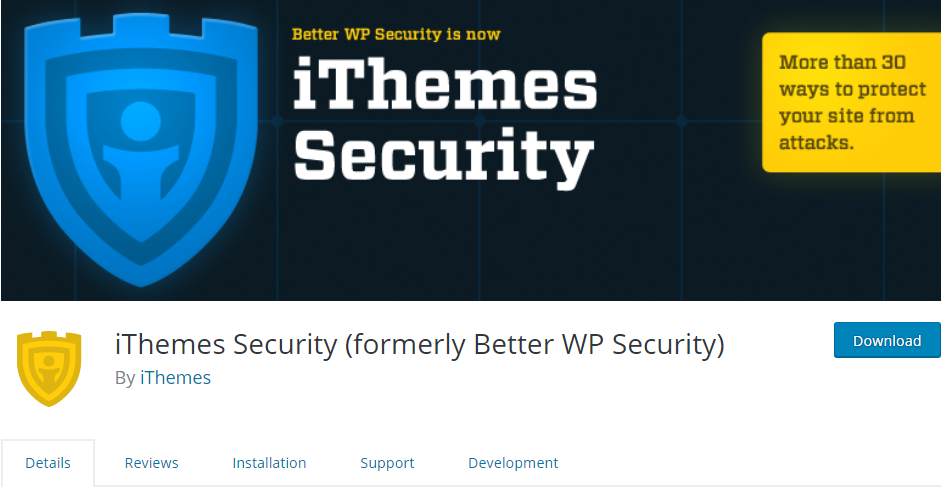 The iThemes Security Plugin helps your website from a brute force attack. This WordPress security plugin offers you a scanning feature that will identify any potential vulnerability for an attack. It will detect such areas and then repair the problems in a matter of seconds that also strengthen your site's security. The plugin comes with several impressive features to prevent things like hacks and unwanted intruders.
Features:
Offers file change detection
Integrated with Google reCAPTCHA
Comes with 404 detection
Brute force protection
Strong password enforcement
3. Wordfence Security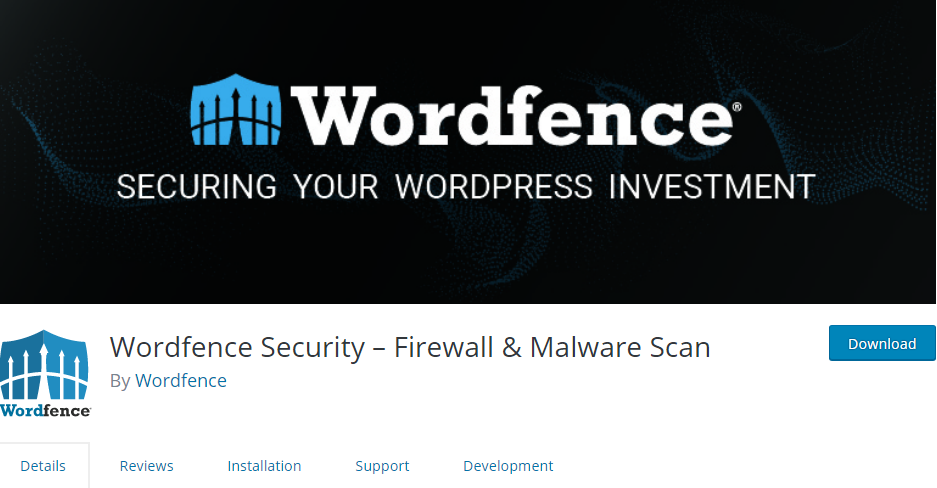 Likewise, Wordfence Security is one of the most popular WordPress security plugins available in the market. It protects your site with spam, malware, and other threats in real-time. This WordPress security plugin comes with a dashboard that is extremely user friendly. Now, you need not have an IT background or a tech wizard, even a layman can deal with it. Also, it allows you to block attacks that come from specific geographic regions known for high rates of cybercrime.
Features:
The free version comes with amazing features
Provides full firewall suite
Real-time threat defense, and a web application firewall
Scans all your files for malware, not just WordPress files
Monitors live traffic
Comes with a comment spam filter
4. BulletProof Security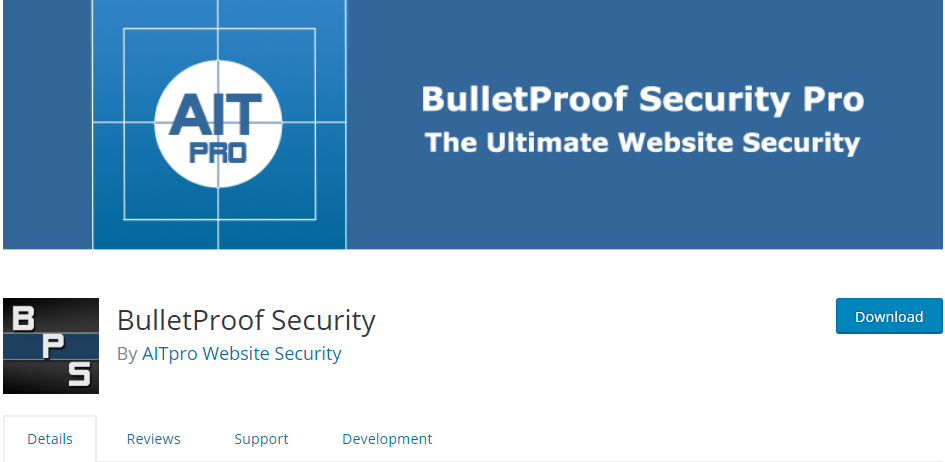 The BulletProof Security WordPress is an awesome WordPress security plugin. It comes with an amazing maintenance mode that will keep your site secure from unauthorized access. The plugin offers firewall security, database security, login security, and many others. BulletProof Security checks all the code of core files, themes, and plugins, and inform to admins which something wrong happens.
Features:
Security logs and monitoring
Scans for Malware
Database backups and restores
Comes with Anti-spam and anti-hacking tools
comes with built-in file manager for htaccess
Hidden plugin folders.
5. All In One WP Security and Firewall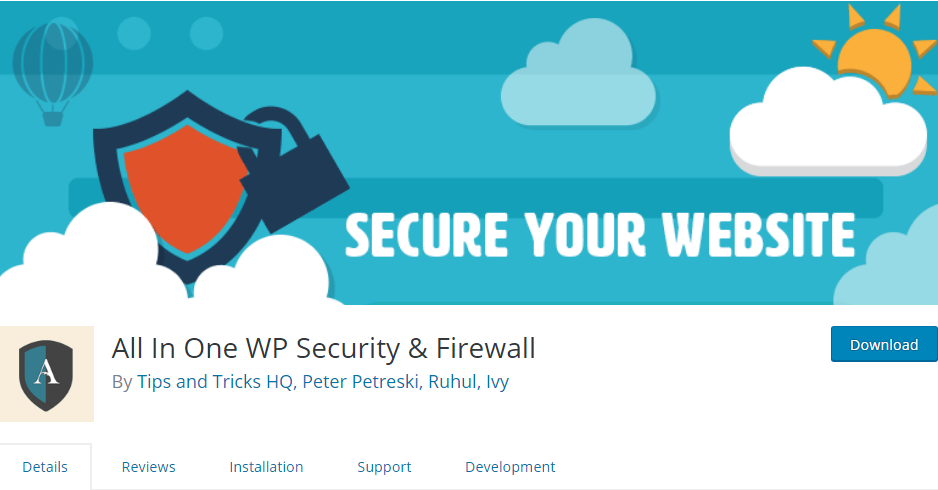 If you are searching for most feature-packed WordPress security plugins, then All In One WP Security and Firewall is the best option for you. Despite free plugin, it comes with easy to use interface and decent customer support. Since the features of the plugin are categorized into Basic, Intermediate, and Advanced, everyone from beginner to expert can implement this for their site. it will help you through protecting your user accounts, blocking forceful attempts on your login, and enhancing the user registration security.
Features:
Comes with blacklist tool to block a user
Allows you to backup .htaccess and .wp-config files
Enables 5G Blacklist to prevent various attacks
Protects your blog from comment spam
Free of cost
Front-end copy protection
6. Jetpack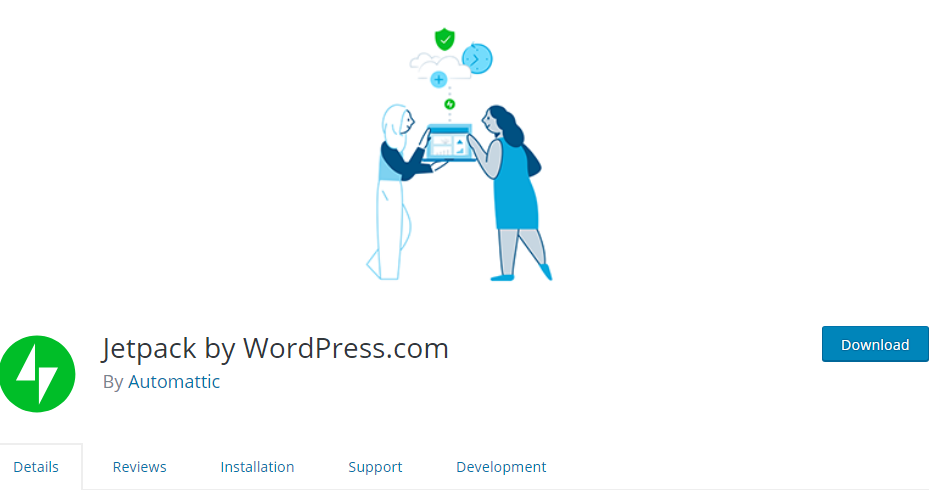 Similarly, Jetpack is another well-known WordPress security plugin. It comes with several modules that strengthen your social media, site speed, and spam protection. It is the perfect option for those who want to save money and rely on a reputable solution. The plugin protects your site from Brute force attack protection and whitelisting. If you want more powerful security system, you can go for its premium version. The Jetpack Pro offers on-demand malware scans and real-time backups for the ultimate protection.
Features:
The free plan is perfect for a small website
Spam protection
Protection from Brute force attack protection and whitelisting
Regular backups and updates
Provides downtime monitoring
Options for email marketing, social media, site customization, and optimization
7. SecuPress
Similarly, SecuPress is a new WordPress security plugin available in the market. Within a few times, it is available to grab the attention of several visitors with its amazing security features. SecuPress is also available in both the free version and the premium version. It includes a great UI and easy to use interface. Besides this all, it features an anti-brute force login, blocked IPs, and a firewall.
Features:
Blocks visits from bad bots
Easy to use and implement
Premium version checks 35 security points in 5 minutes
Alerts and notifications, two-factor authentication
Ability to change your WordPress login URL to protect from bots
Detect vulnerable themes and plugins
8. VaultPress
VaultPress is not less than other premium security plugins. With its outstanding features, it keeps your site secure from scams and malware. It will provide daily and real-time backups that keep your site updated and bug-free. The best part of VaultPress in regards to backups is that they are incremental.
Features:
Provides daily and real-time backups
Affordable pricing plans
Cleans and easy to understand dashboard
Manual backups using a calendar
Stats tab to reveals information about threats
A dedicated team of experts
9. Google Authenticator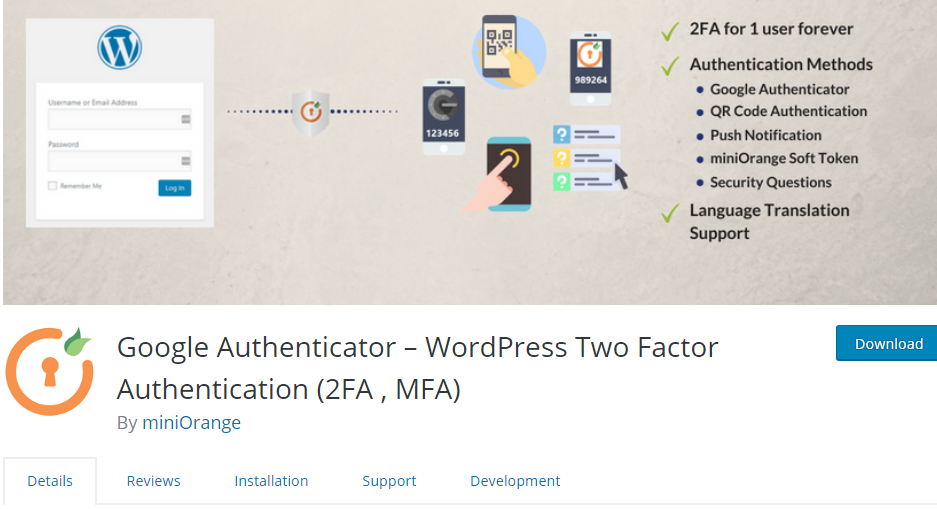 Another amazing WordPress security plugin in our list is Google Authenticator. It comes with two-factor authentication which provides better login security. The plugin adds the second layer of security to your login module which protects your site from hacker's login attempts. Whenever an unauthorized person makes hacking attempts, it will send a push notification to your phone and alert you about it.
Features:
Eliminates the vulnerability of your login area
Provides two-factor authentication method
Interface is easy enough to understand
Provides Shortcode for using with custom login pages
10. Security Ninja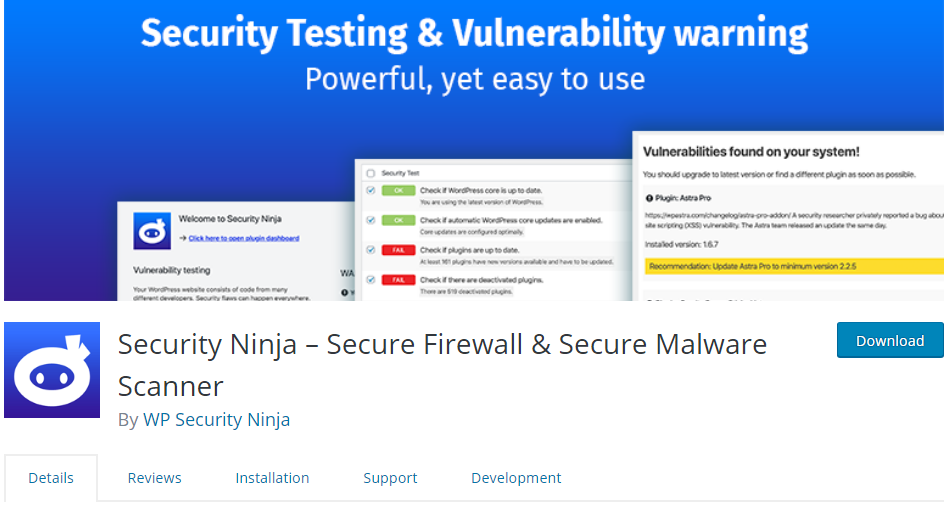 Likewise, Security Ninja is a very helpful plugin for your site security which performs over 50 security tests. It handles everything from checking files and MySQL permissions to various PHP settings. This WordPress security plugin does a brute force check for user passwords which is very fruitful for users to understand about security.
Features:
Security tester module performs over 50 security tests
Comes with auto fixer module can resolve any issues detected
Scan plugins and themes to suspicious code and malware
List the known bad IPs and block them automatically
Allows you to schedule regular scans
Scan WordPress core to ensure its integrity
11. Defender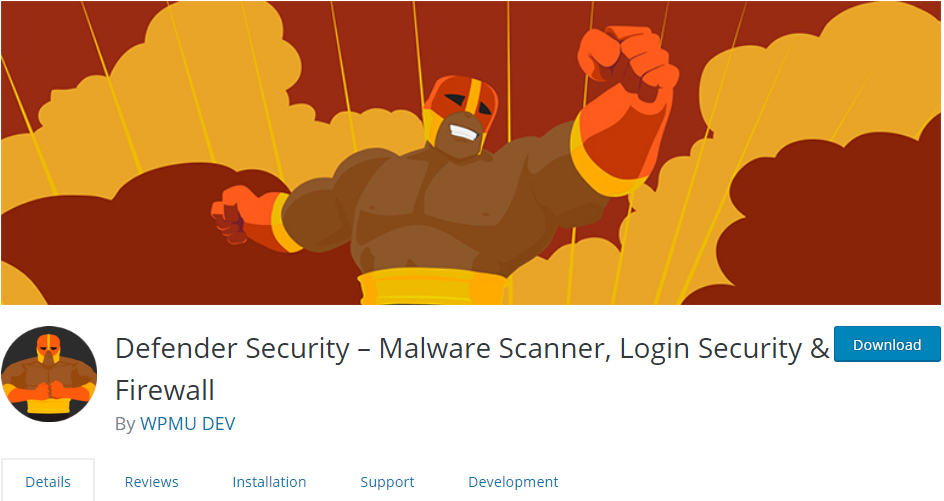 Last but least, Defender has layered WordPress security plugin designed with easy and simple to use interface. The plugin is available in both free and pro versions according to its features modification. It helps you to scans your site to check suspicious code just free. The plugin comes with a scan tool that compares your WordPress install with the directory, reports changes, and finally restores it with single clicks.
Features:
Comes with Google 2-Step Verification
Login Screen Masking
Providers IP Blacklist manager and logging
Unlimited file scans
Comes with Timed Lockout brute force attack shield
404 limit for blocking vulnerability scans
Conclusion
Finally, we did with all the listed WordPress security plugins. All of them are just amazing, these offer outstanding security features. Once you install any of these, you can protect your site form several scams and unauthorized access. The plugins keep your site updated and protect your database from every hacking attempt.
I hope you get this article helpful to you and you can keep your site secured with these popular WordPress security plugins. If you are getting any trouble or have any queries regarding these plugins, feel free to send your questions. You can send your queries through our comment section. Stay tuned and keep following our website for upcoming articles.
Categories
Wordpress Security Plugins