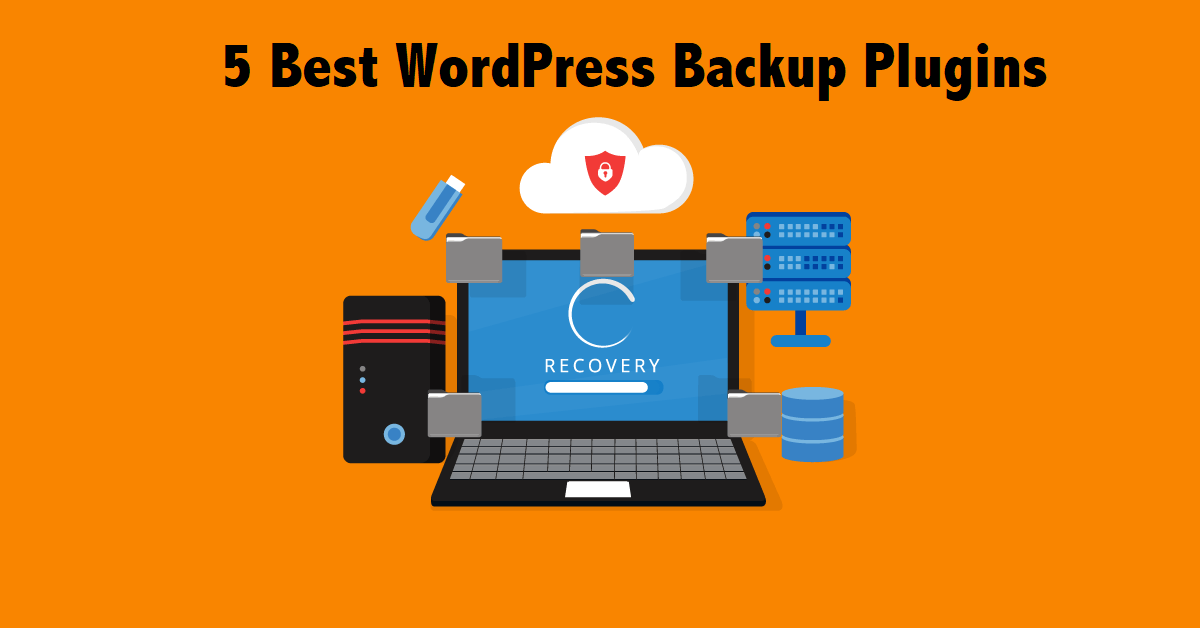 5 Popular WordPress Backup Plugins in 2022 [Updated]
Are you searching for some powerful WordPress backup plugins for your site? If yes, then you at the right way. WordPress Backup Plugin helps you to keep backups files of your site. You can restore it anytime if you need it back.
Whenever you reset your site or deleting your format, it is necessary to keep a backup of your site.
There are many free and premium WordPress backup plugins available in the market. The long list may confuse you. So for your ease, today we came with a list of the best 5 best WordPress backup plugins. Go through all these plugins and get the best one for your site.
Let's get started:
WordPress Backup Plugins
BlogVault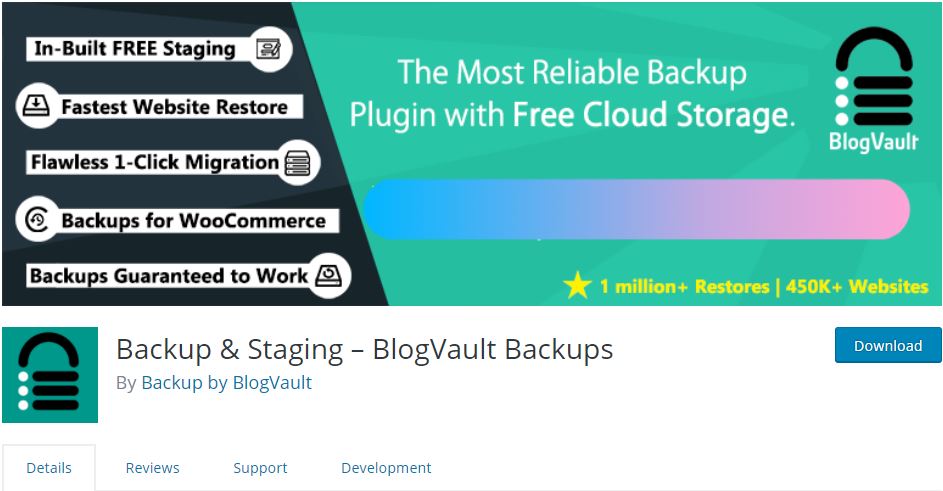 Here the list started with BlogVault. It is one of the best WordPress backup plugins which will keep all those necessary backups. The plugin will connect your site to their servers to make your setup easier. Also, they use incremental backups to reduce your server load.
The best part of BlogVault is, it keeps a daily backup of your website automatically. Not only that, but you can also see 90 days of backup history. Since all your backups are stored securely on the servers, you can download backups to your computer or Dropbox.
BlogVault allows you to create a staging site to test your changes before pushing it live.
Features:
Provides incremental, Scheduled, Automated backups
Reduce server load
Provides inbuilt test and staging site option
Allows you to migrate to another hosting service easily
Centralized dashboard
Stores backup to Google Drive and Dropbox accounts
Offers real-time backups for WooCommerce websites
Pro:
Comes with an unlimited on-demand backup
Extends great personalized customer support
Data is encrypted and stored securely on Amazon S3 servers
Cons:
It is not available in the free version
Pricing:
Its Plan starts at just $7.4 a month. BlogVault offers three levels – Basic, Plus, and Advanced plans. Also, it provides different pricing plans for agencies and web developers.
UpdraftPlus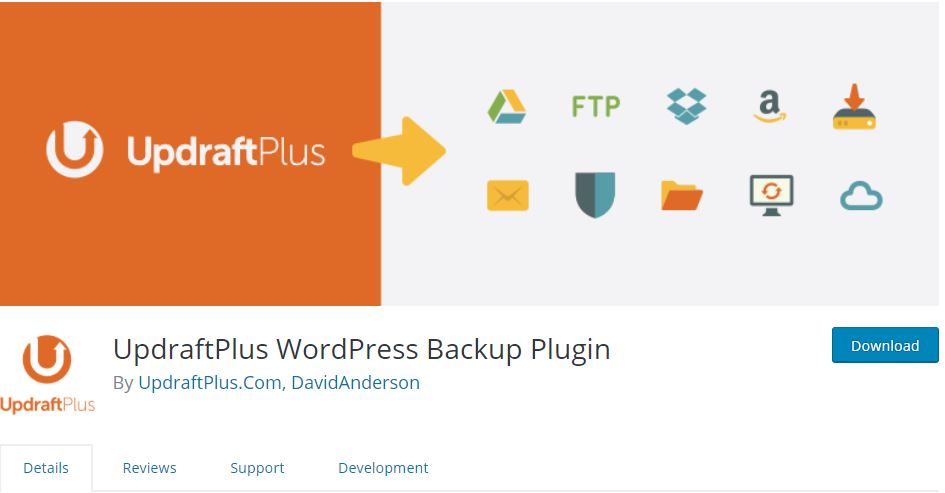 UpdraftPlus, one of the amazing WordPress backup plugins, comes with outstanding features which help you to backup your site easily. It has over a million active installs which clearly shows its popularity. Because of its user-friendly interface and backup option, it is able to grab users' attention.
Its free version also offers easily set up full, manual, or scheduled backups of all your website. Its backup includes your database, plugins, themes, and others. Restoring website files is easier since even a layman can do it very well.
Moreover, it supports multiple cloud storage options including Google Drive, Dropbox, and Amazon S3.
Features:
Provides customized and scheduled backups
Easily manage WordPress multisite network
Easy to get backups and to restore
Option for multiple cloud storage
Send the cloned site to a new domain or host
Available in free version
Pro:
Provides best backups in free version
Customer support for premium plans
Cons:
Not works well with large sites and the old WordPress version
It may overload your site
Pricing Plans:
Its pricing plans start at $6 per month for 2 sites.
Jetpack Backups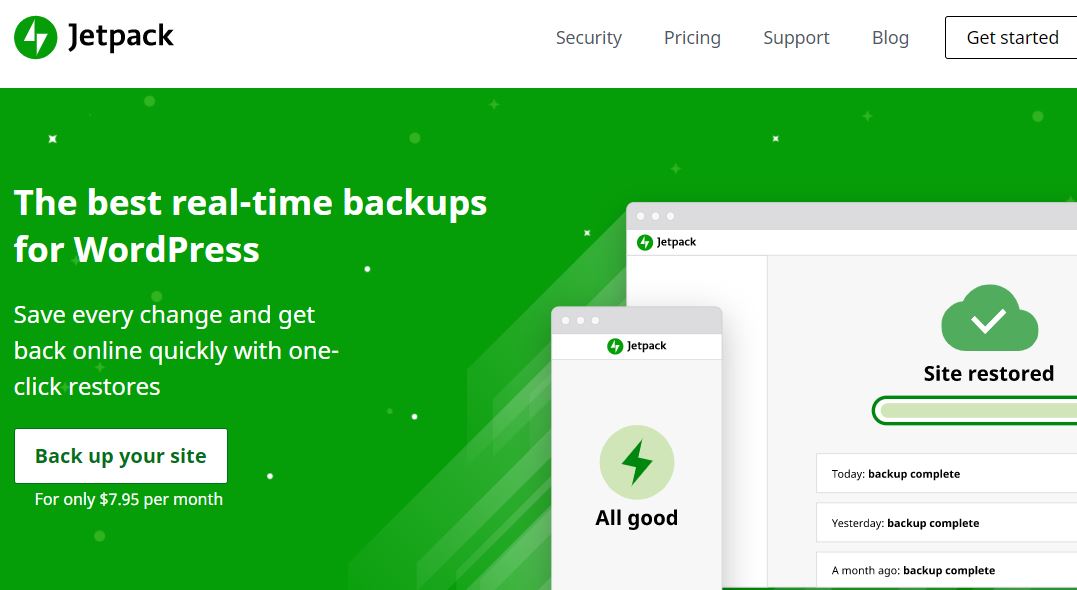 Likewise, Jetpack Backups is one of the popular WordPress backup plugins by Automattic. It was originally launched under VaultPress. But the company redesigned it and named it Jetpack Backups. Here, you will get automated daily and real-time cloud backup solutions. The best part is, it will not slow down your site. If you are keeping backups through Jetpack backups, you can restore them within few clicks.
If you go for premium plans, the plugin also offers security scans and several other powerful features.
Also, you can manually disable all the unnecessary features of Jetpack except for backups, so they don't slow down your site.
Features:
Restore WordPress backup automatically with one-click
Allows you to download the full backup
Provides daily backups
30-day archive backups
Unlimited storage disk space
Manage everything from the independent dashboard
Pro:
Free backup plans also come with a number of WordPress security features and uptime monitoring.
Cons:
No HTTP authentication
Need to take a JetPack subscription for the full backup feature
BackupBuddy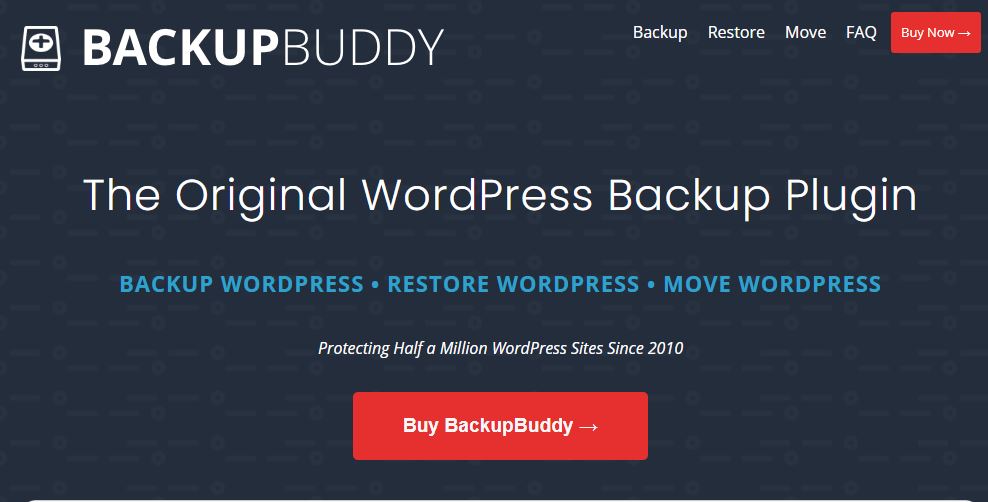 Another amazing WordPress backup plugin is BackupBuddy. With this, you can back up and stored off-site in a safe and secure location. Once the file is backed up completely, you can download a zip file and copy it on your hard drive. Not only that, but you can also send backups to remote storage locations such as Dropbox, Google Drive, and BackupBuddy Stash.
Somehow if you faced any issue and need to recover back If you ever have a problem and need to recover content, BackupBuddy makes it easy to quickly restore your entire WordPress site.
BackupBuddy has an option for automatic backups. Now you need not do it manually, just set the date and time. The plugin will do it itself for you.
Features:
Provides automatic backup
Allows you to choose from specific WordPress database files for backup
WordPress database Repair and optimization
Comes with several options for offsite storage
Easy Site Migration
Restore your site quickly and easily
Pro:
Provides access to 1 year Stash Live
Stores 5 daily, 2 weekly, and 1 monthly database backups
Send email notifications to download backups
Smooth backup processing
Cons:
Do not allow on-demand backups
Fails to work on large WordPress sites
Do not provide HTTP authentication
Pricing Plan
Its pricing plans start at $80 per year for 1 site.
BackWPup
Last but not least, BackWPup is a popular and free WordPress backup plugin. It has more than 6 million downloads which clearly shows its popularity. The plugin is easy to use and customize, even a beginner can do it very well.
BackWPup provides both manual or scheduled backups to save you time. Despite being a free plugin, it allows you to send your backups to an external backup platform such as Dropbox. And if you go for the premium version, with no doubt, there will be more backup platforms.
Features:
Provides full database and file backups
Backups storage to Dropbox, S3, FTP, and others
Daily or weekly automatic backups
Comes with a step-by-step restoration tool
Premium version comes with database, scanning, optimization, and repair tool
Allows you to choose different formats to store your backups.
Pro:
Supports emergency restores
Premium personalized customer support
Cons:
Require technical knowledge to handle the operations
Pricing Plan:
Its pricing plans start at $69 per year with renewals at $39 thereafter. The plugin comes with 5 levels of plans: Standard, Business, Developer, Supreme, and Agency.
Conclusion
Finally, we did with all 5 best WordPress Backup Plugins. All of them are just amazing. These WordPress Backup Plugins help you to keep a backup of your site easily. And it is easier to restore if you want your data back.
With these plugins, you won't lose any of your data, since it is the most important part of your site. So go through the list and get the best one as per your requirement.
We hope you get this article helpful to you. Feel free to send us your queries. You can send us your question through the comment section. We will get back to you as soon as possible. Keep following us on Facebook and Twitter for more updates.
Categories
Wordpress Backup Plugins