5 Popular Online Grammar Checker Tools 2022
To get powerful content with huge traffic, you need to be very serious about your content grammar. Grammar is necessary to write effective content for academics or any type of blog.
To make our writing easier, quicker, and error-free, there are several AI-based online grammar checker tools available. We just need to pick up the right one for us.
To make it easier, here we came with a list of the 5 Best Online Grammar Checker tools that will guide you through your writing. Just go through the list and get the one for you and start writing error-free content.
Here, we go:
Online Grammar Checker Tool
Grammarly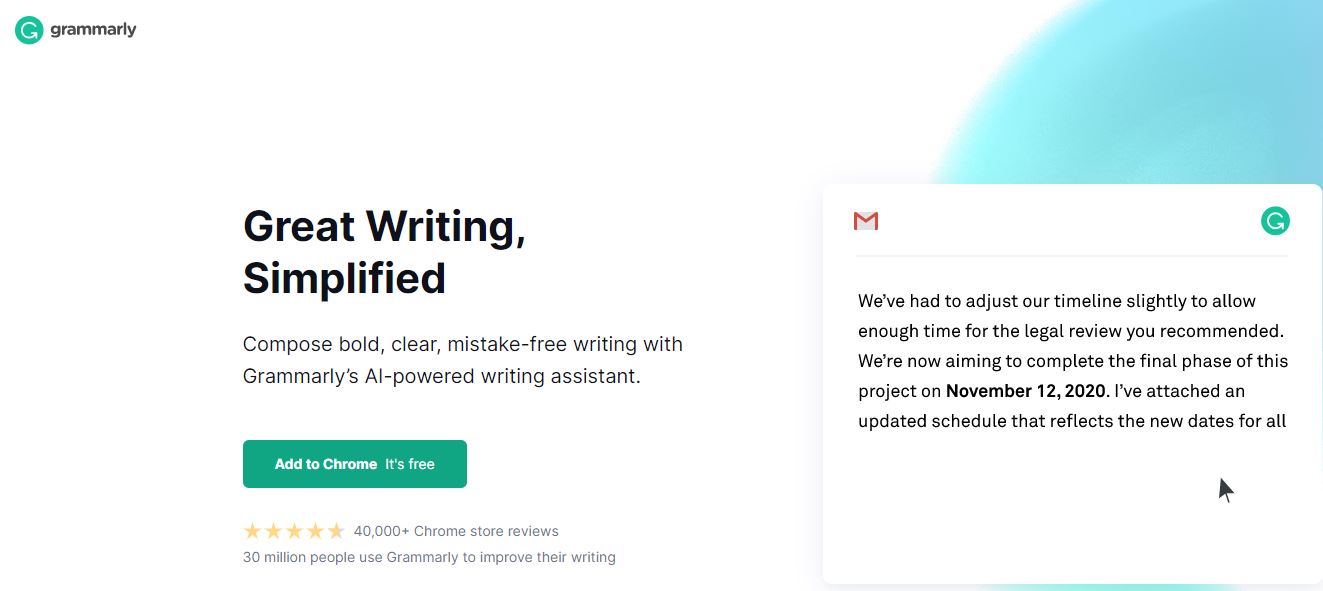 Here, the list started with Grammarly. It is the popular and free online grammar checker tool available in the market. You can use it to check grammar, spelling, punctuation errors, and many more. Grammarly allows you to check 100,000 characters at a time. So how to use it? Well, you just need to copy and paste the content into the Grammarly editor. The editor will automatically check the content for factors like correctness, clarity, engagement, and delivery.
Grammarly is really a useful writing assistant that will correct grammar and also gives you comprehensive writing feedback. Use Grammarly to correct grammatical errors and spelling errors in social media updates, emails, blog posts, articles, and others.
Features:
Comes with an AI-based text checker
Integrated with Browser, Google Docs, and MS Word
Provides Personal dictionary
Built-in plagiarism checker
Style consistency checker
Check 100,000 characters at a time
Pricing:
Grammarly Premium Monthly subscription: $29.95 per month.
Grammarly Premium quarterly subscription: $19.98 per month/ one payment of $59.95.
Grammarly Premium annual subscription: $11.66 per month/ one payment of $139.95.
ProWritingAid
ProWritingAid, a London-based software firm, acts as your virtual writing tutor and grammar checker. It is your personal writing coach and you can integrate it for MS Word/Outlook, Google Docs, Open Office, Final Draft, and even Scrivener.
You can simply download a desktop app for Mac and Windows or install a plugin for your browser. Also, you can use its browser extension for Chrome, Firefox, Edge, and Safari. Once you get the extension, start checking your writing on any website, including Medium, Facebook, Twitter, Gmail, and Wattpad. Either copy-paste the text or upload the document which you can check for grammar.
Features:
Available at an affordable price
Gives accurate result
Provides a plugin to check grammar
Mobile friendly
Comes with powerful self-editing reports
Suitable for fiction writers
Pricing:
Monthly Subscription: $20/month
Yearly: $79/year
Lifetime: $399 one time payment
Jetpack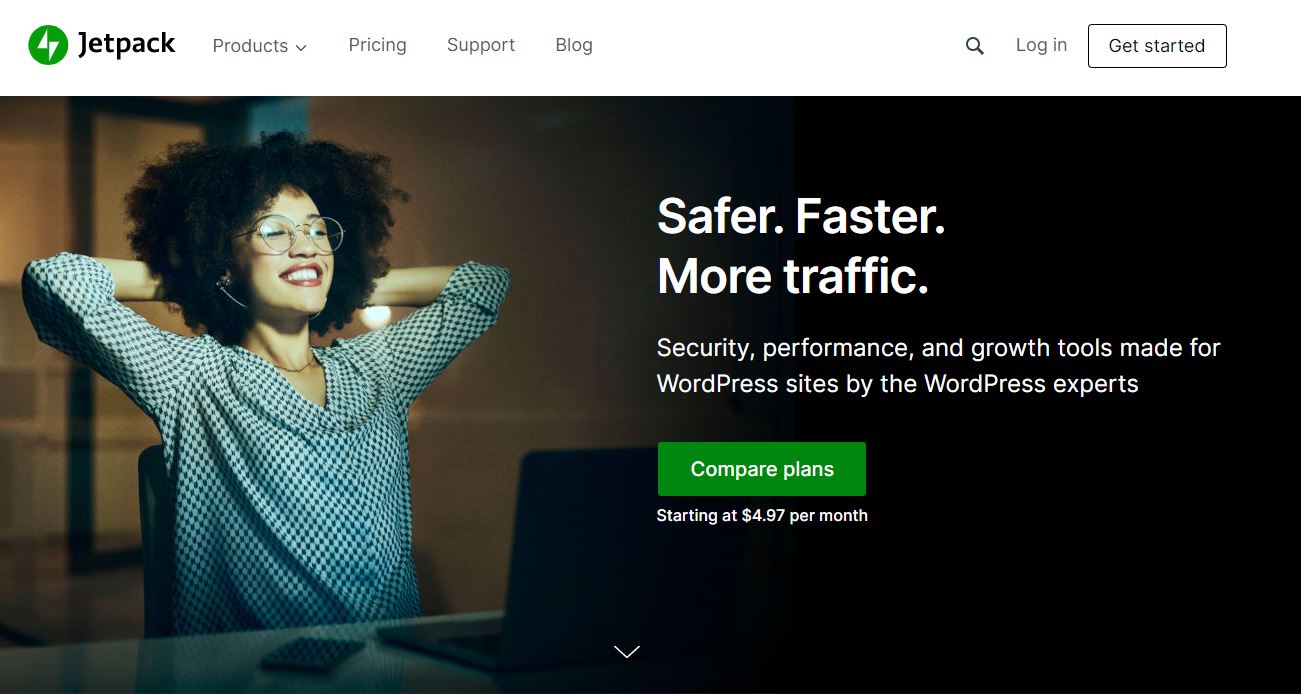 Likewise, Jetpack is a popular WordPress plugin that is also responsible for improving grammar for your content. Here, you will get lots of options for modules that are suitable for improving proofreading to the WordPress post editor.
Jetpack is well known for site security, performance optimization, and other powerful tools. Just install the plugin and enable the spelling, style, and grammar check features. It will automatically mark your errors on the WordPress editor. The color marks are Red for misused words and spelling errors, Green for grammatical mistakes, and Blue for style suggestions.
Features:
Provides color coding for error recognition
Available in different languages
Comes with different modules
Dedicated WordPress plugin
Provides regular updates by the Automattic team
No hidden fees
Pricing:
Jetpack proofreading is available for free.
Ginger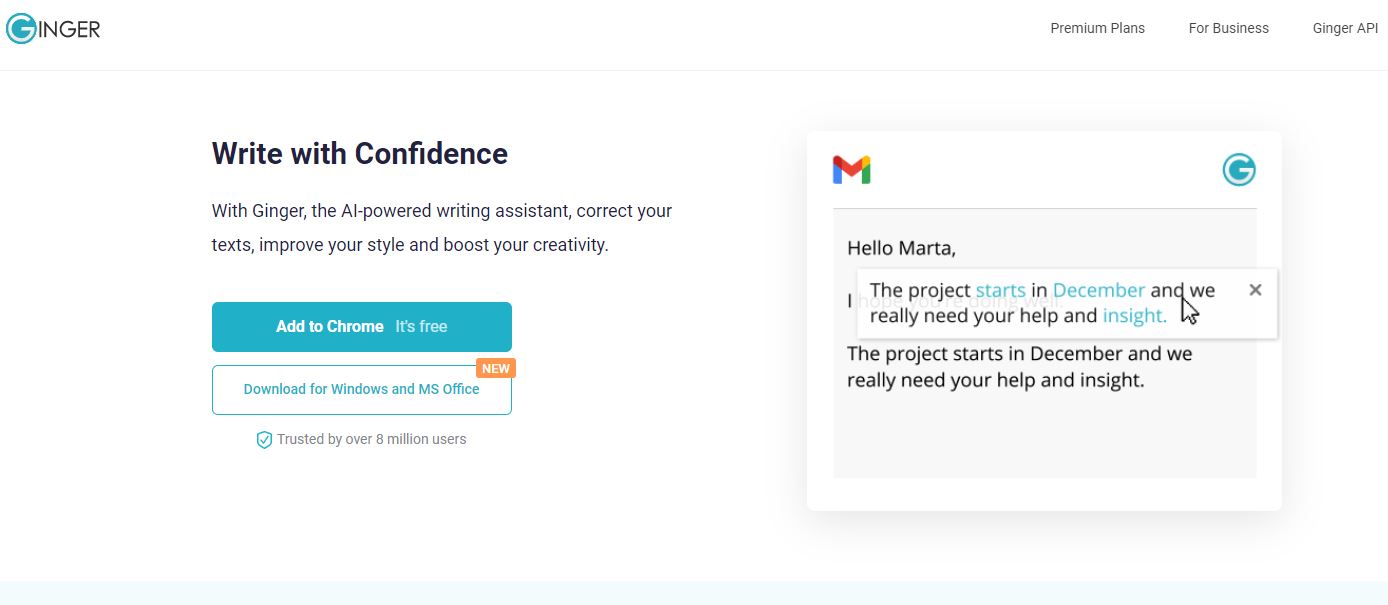 Ginger is a free grammar checker that offers a spell checker and online proofreading tool. It comes with a spell checker which will identify the correction that best fits your content. You can not only improve your writing skills but also boosts productivity. The Ginger Grammar Checker helps you to correct a vast range of grammar use mistakes.
Use Ginger as a browser add-on, MS Word/Outlook integration, iOS/Android, Windows app, or directly from their online site. If you want to make your content error-free, Ginger can be your best option. You can use it to check irregular verbs/adverbs, confusing wordings, misspellings, and common grammar rules. Now, your grammar mistakes will no longer be overlooked with Ginger.
Features:
Checks grammar and spell error
Easy proofreading
Provides third-party integrations
Comes with personalized practice sessions
Terminology management
Style check
Pricing:
Monthly Plan: $29.96 per month
Annual Plan:$12.48 per month
Two Years: $9.99 per month
Hemingway Editor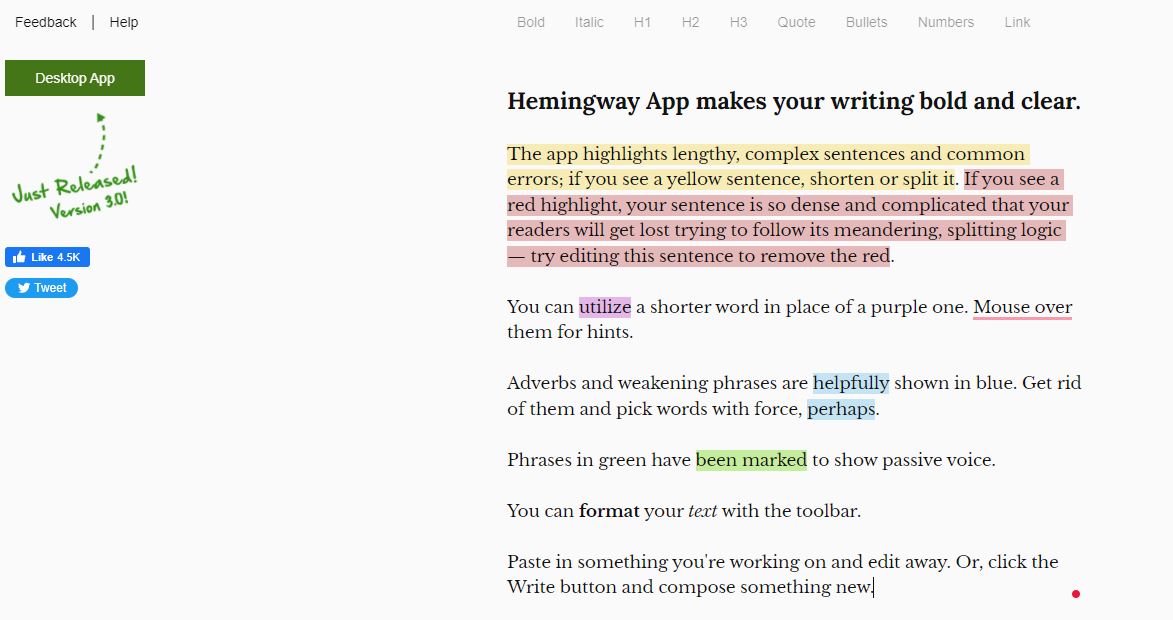 Last but not least, Hemingway Editor is an easy-to-use grammar editor tool that helps you to write true sentences for your blog or website. So how does this tool work? Well once you go through it, it will highlight complex sentences in red, instances of the passive voice in green, and adverbs in blue. Just take your mouse over the highlight and correct your writing.
Hemingway Editor is fast and efficient, anyone can deal with it very easily. Unlike the other grammar tool, it doesn't provide in-depth grammatical lessons. Instead, it assesses the overall readability of your text. And then guide you to improve your writing.
Features:
Best for self-editing
Complements Grammarly
Integrated with third-party and browser extensions
Improve overall readability of any text
Built with incorporated Automated Readability Index technology
Available for both online and offline.
Pricing:
The online version of the Hemingway App is free.
The desktop version costs a one-time fee of $19.99 for both Windows and Mac
Conclusion
Finally, we did with all listed Online Grammar Checker Tools. Above all come with amazing features that will improve your writing and keep it error-free. You can use these tools for your blog, writing, or any content. Make your site SEO optimized with error-free content and get top SEO rank.
Hopefully, you get this article helpful. You are free to contact us if you have any types of queries or confusion.
Follow us on Facebook and Twitter for further more articles.
Also, See!!!
Categories
Uncategorized