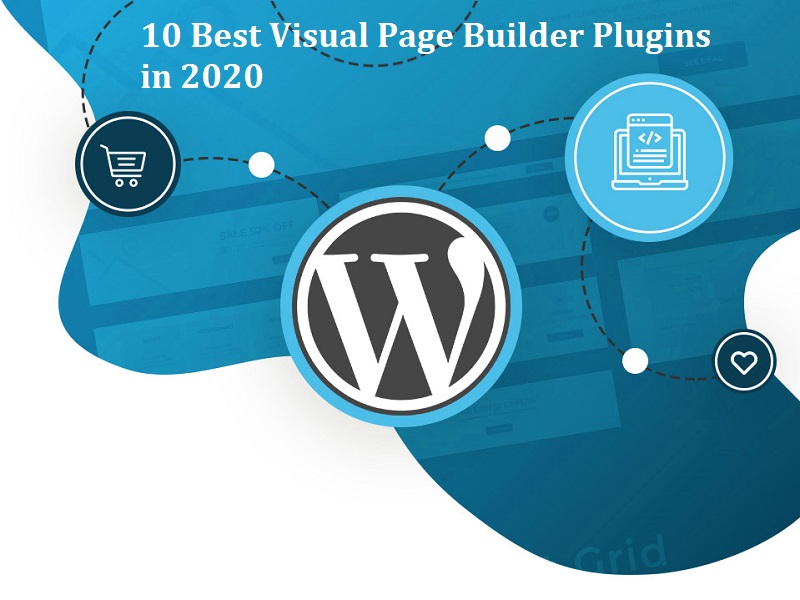 10 Best Visual Page Builder Plugins in 2022 [Updated]
Are you looking for the best visual page builder? Here we are with the 10 best WordPress page builder.
Before we go through the list of best visual page builder. We should know what is a visual page builder? And what is the factor that should be considered before choosing a visual page builder?
What is a WordPress Visual page builder?
In WordPress, the page builders are plugins used to design a website. You need to drag and drop after you enable page builder and once activate it, it creates a beginner-friendly design that allows you to built custom websites easily.
You don't need to have knowledge of code to use the page builders. The codes are automatically created.
Factor that should be consider before choosing a visual page builder.
Easy to use
Responsive
Customizable
Trial or free pack
Affordable
Support
These are the factor that we need to focus on before choosing a visual page builder.
1. Elementor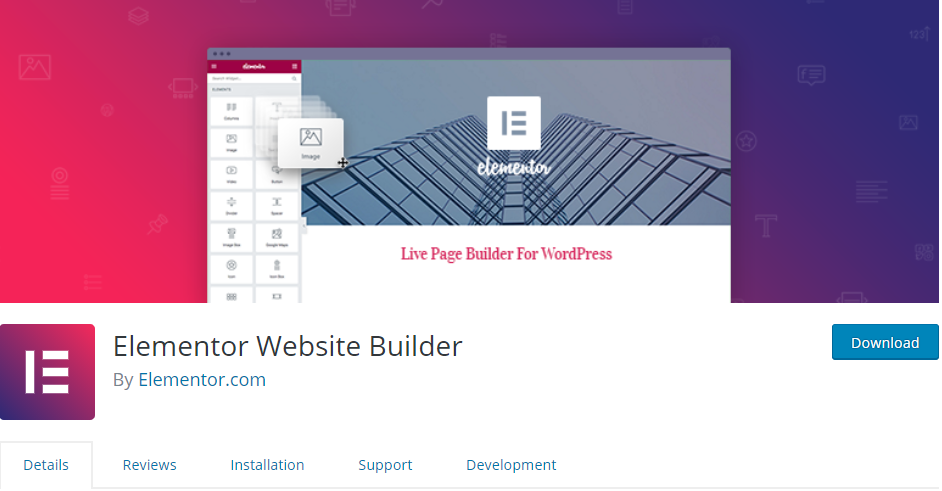 If you are looking for the best WordPress visual page builder then you are in the right place. Elementor plugin serves best for the purpose.
You are going to experience unseen high-end page design with advanced capabilities. As a website developer, you need to have a perfect website either for yourself or for any client. As they all know that a good website is a key success of any business.
Elementor page builder provides you every feature for a WordPress visual page builder. You can get many exciting additional properties in the pro versions. There is a lot of free section on elementor page builder. If you need an additional section for elementor you can use this free elementor addon plugin to extend elementor.
Features:
Very fast
Pre designed templates and blocks
Responsive design
Image gallery
Menu anchor
Google maps
Woocommerce builder
2. Thrive Themes Builder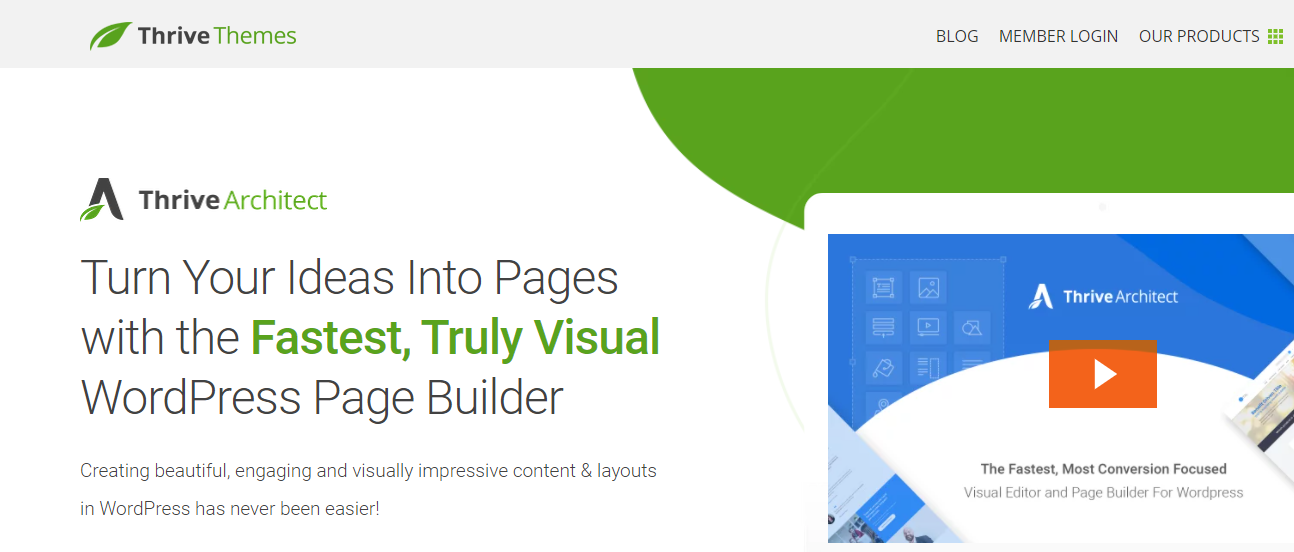 Thrive themes builder is another name that you must see for a good WordPress visual page builder. You can create beautiful and engaging pages with ease.
This visual page builder saves time and energy giving you the best result. You can give a unique experience in every screen size which will attract the maximum no. of visitors.
Features:
Drag and drop editing
Landing page templates
Pre-built conversion elements
Ultra flexible column layouts
Catchy text and image combination
3. Divi Builder

You are looking at the optimum WordPress page builder. This visual page builder is exceptionally advanced and fast.
This WordPress visual page editor gives both newcomers and professional designers ease and efficient designing experience. You can create spectacular pages and enhance your capabilities and present yourself in the market.
Features:
Custom CSS control
Drag and Drop Building
Responsive Editing
Design Options Galore
Global Elements and Design
Pre Made designs
4. Beaver Builder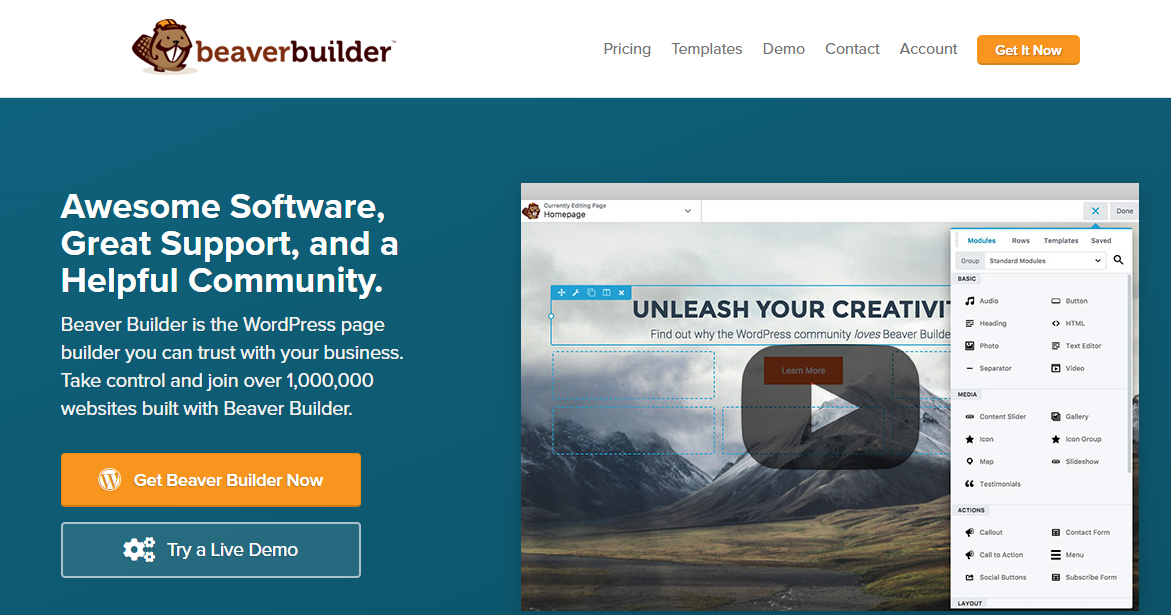 The next WordPress visual page editor is a beaver builder. Simply saying this page builder is trustworthy for your business.
Several people trust beaver builders for their website due to its services. You can utilize your full creativity on your page.
With this WordPress visual page editor, building pages and controlling them is a task of ease. You can improve your workflow as well as can let your clients handle their pages easily.
Features:
Responsive
Inbuilt page templates
Column based layout
Professional support
Unlimited site license
5. WP Page builder
WP page builder is another name in the column of the best WordPress visual page editor. It offers you paid support and hosting.
The pages you design is fast and security optimized. It also covers maintenance and media downloads. Your webpage will also have email and mail gun support. Moreover, their experts will install and modify your website on Google cloud servers.
Features:
Page Speed Optimization
Search Engine Optimization
WordPress Website Backups
Theme Plugin Setup
Theme License and Setup
DDOS protection
6. MotoPress Content Editor
Motopress content editor Visual page editor is among the best WordPress drag and drop builder. It is very simple and allows you to generate layouts without using a single line of code.
You can add from built-in templates and design attractive responsive webpages. You can revolutionize the way of design as this visual page editor allows you to add videos and parallax background without buying add-ons
Furthermore, you can save tons of time and also get help from demos and Professional support. Also, you can increase the functionality of the webpage by adding our own shortcodes.
Features:
WP Multisite Compatible
Style manager
Google Web Fonts
Predefined Layouts
WPML Compatible
Easy Extendable
7. Oxygen Builder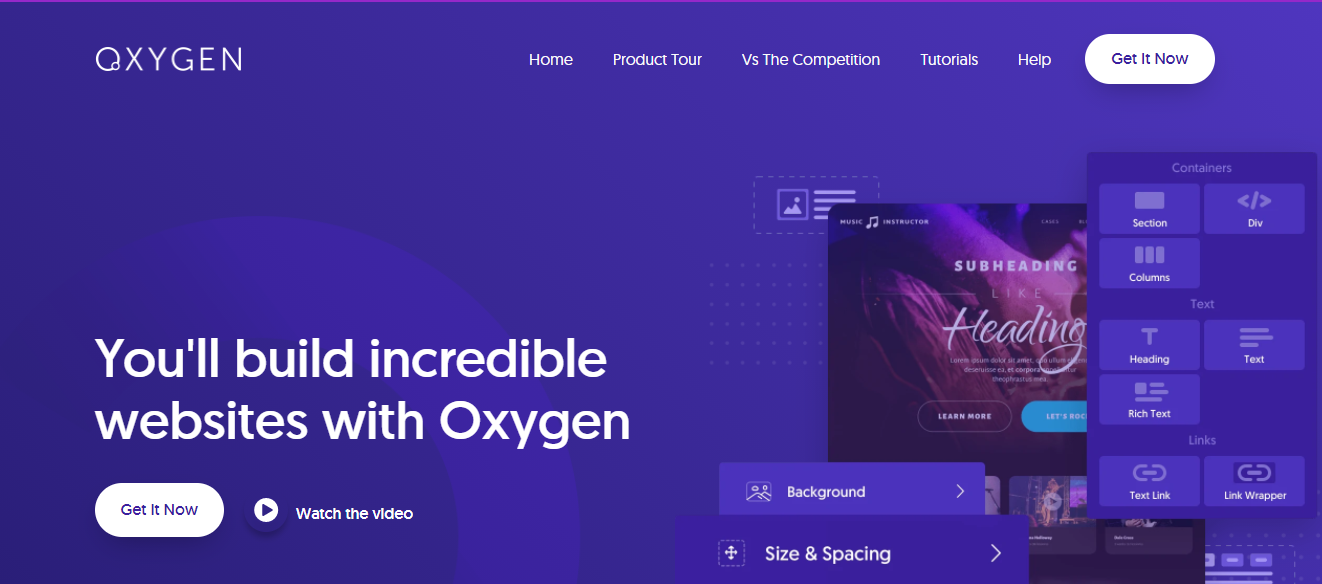 Oxygen Builder adjusts itself in our list of best WordPress visual webpage builder. You can build outstanding pages with ease using this page builder.
It is a powerful tool which allows even nonprogrammers to build complex design easily with good support. You can also get unlimited site licenses and updates to get the full benefit of the webpage.
Features:
WooCommerce Compatibility
Drag and Drop Editing
Header Builder
Global Colors
Developer Friendly
Advanced Functionality
8. Live Composer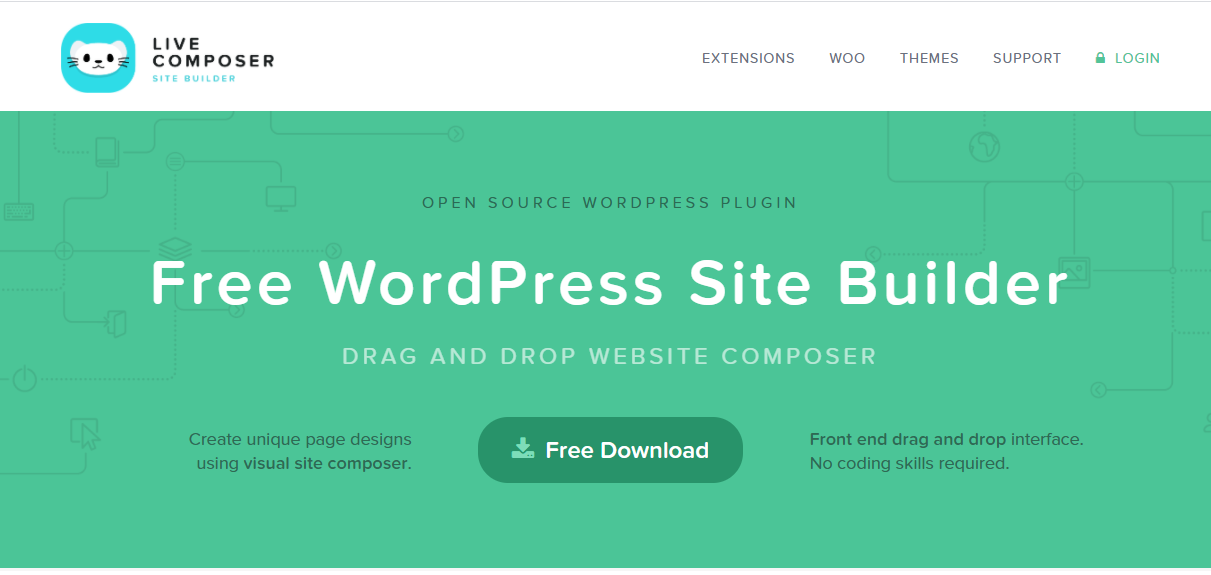 You have a live composer as another option for WordPress visual webpage builder. It is a design routed, powerful responsive, and strong page builder.
You can create attractive websites in an intuitive process. There are also premade design templates and support to help in creating a webpage with ease.
A live composer is an outstanding option for web designers, digital marketing specialists, and also for freelancers.
Features:
Responsive
Mobile friendly
Gutenberg editor
Translation editor
9. Brizy Page Builder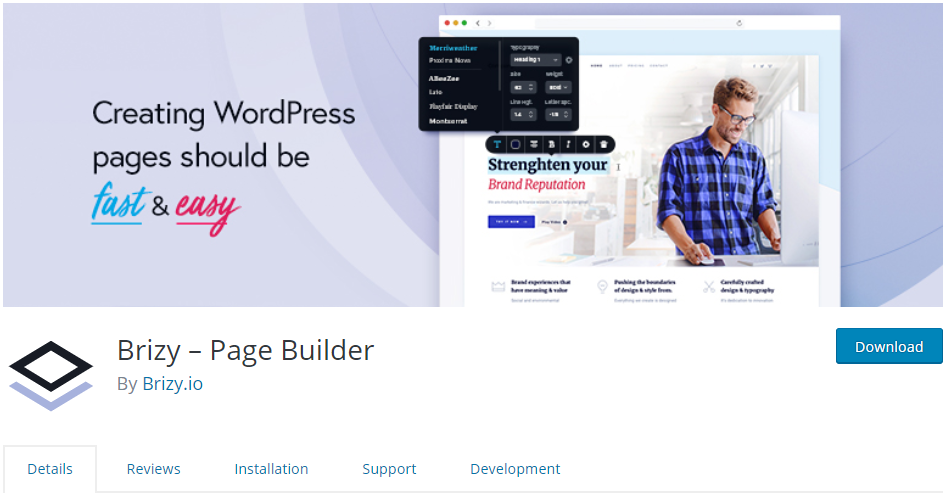 This is a fast and easy WordPress, visual page builder. You can build your webpage in an innovative and fantastic way with real knowledge of technical design.
You can get various design elements like text, buttons, images, maps, videos, etc. to design in few clicks. There are over 150 pre made blocks that allow you to create the main structure of the page in minutes.
Features:
Mobile Friendly
Global Styling
Smart Text Editor
Content Adjustments
Cloud Auto-Save
Undo Redo
10. Themify builder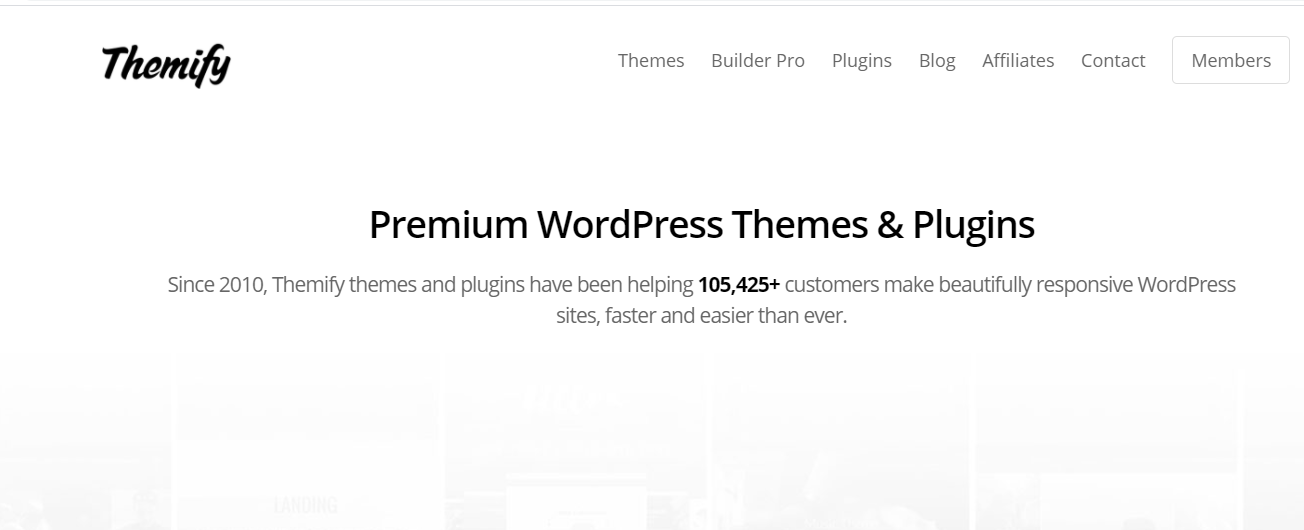 It is one of the most strong and intuitive WordPress visual page builder. You can carve your imagination on your webpage easily and efficiently.
This WordPress visual page builder does not require proper technical coding knowledge to build an outstanding and professional webpage.
Moreover, predesigned layouts and frontend editing will help you to jumpstart an awesome landing page.
Features:
Responsive
Cache system
SEO friendly
Modular based
Multi-site support
Translation ready
Conclusion
Here, we have listed the best visual page builder along with their features. All of them are best in their own way, similar at some point, and different at some point. The difference among them is going to decide what is useful for you. In short, you can select one best for you.
I hope you liked the article and get it helpful to you. You are totally free to send your queries related to the article through our comment section. We will try to answer all of them as soon as possible. Keep visiting our website for more interesting articles.
Categories
Page Builder