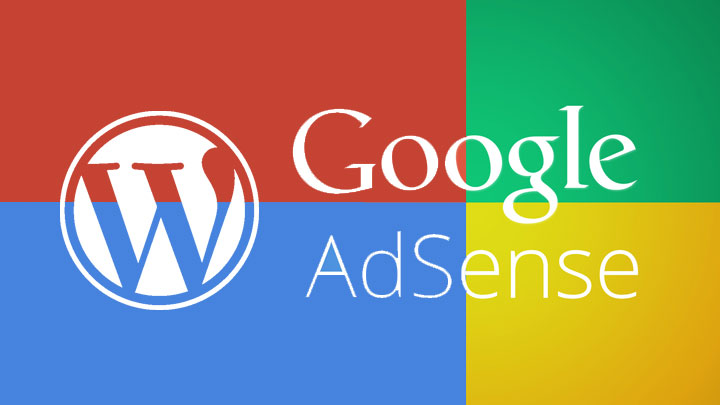 Best WordPress Google Adsense Plugins 2022 [ Updated ]
Google Adsense Plugins are the best choice for you to display ads on your website. While that is a great way to earn money online. Google Adsense will always remain as a safe option for generating extra income with your blog or website. Although it is one of the most widely used monetizing methods for bloggers and webmasters. It is the most popular pay per click advertisement platform.
If you are looking for various smart Google Adsense plugins for your WordPress website, you have found an exact blog post. This excellent and popular platform lets you display ads relevant to your website content and earn money when a visitor clicks on the ads on your blog. Below all plugins are different from their features, so choose the right one which will fulfill your needs and requirement.
1. Simple Google Adsense Plugins
Simple Google Adsense is one of the best Google Adsense plugins for WordPress. It is a superb solution to earn money by placing ads to WordPress website pages, posts, custom posts, search results, categories, tags, and widgets. While the plugin lets you display the ads in various locations. Additionally, with lots of customization options, Simple Google Adsense is the best Google Adsense plugins of WordPress. Overall, this free plugin brings very useful features to your site making it simple for the users to get started with the advertisement.


2. Ad Inserter
Ad Inserter is another WordPress Google Adsense plugins that comes with lots of customization options and 16 different code blocks. Although this is free to use a plugin that has many advanced features and also supports all kinds of ads. On the other hand, you can also use the automatic display option to let the plugin choose the ad locations. Furthermore, Ad Inserter also focuses on adding adds within content paragraphs, to increase and maximize engagement rates. Alternatively, you can display ads by using the custom shortcodes of the PHP function.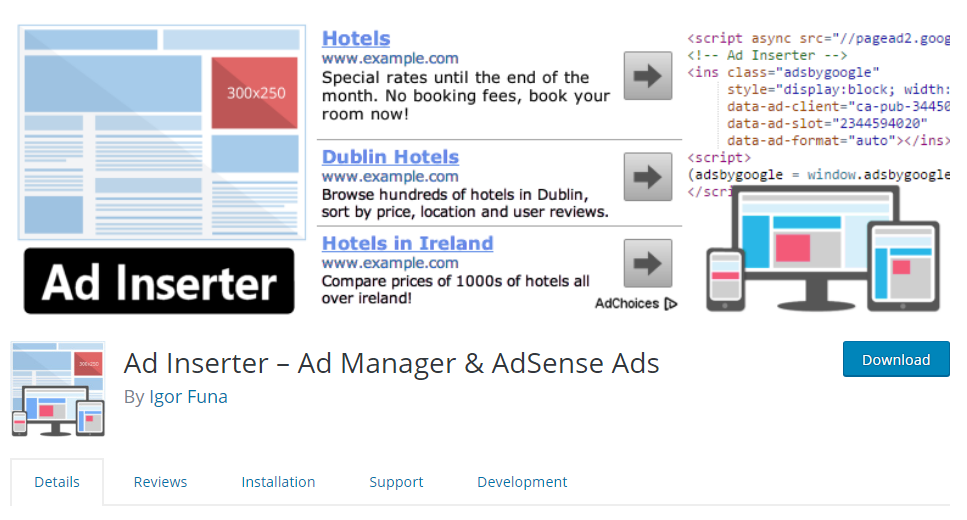 3. Advanced Ads
Advanced Ads is yet another Google Adsense Plugins that is an ultimate ad management solution for WordPress users. With this plugin, you can easily manage all the different ad types be it Google Adsense or any other affiliate ads. On top of this, one of the most impressive features of the plugin would be the automatic Adsense violation checks, which can help you stay in the clear. Moreover, just like Google Adsense Plugin, you can also display ads automatically with the help of auto inject ads feature. This plugin supports ad types and ad management to advance ad placement and other specific targeting features.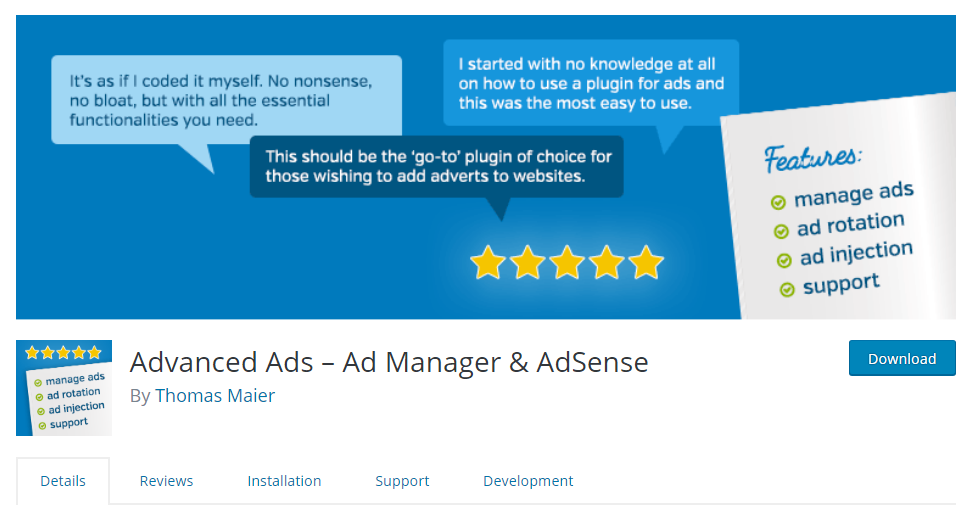 4. Adsense Plugin WP Quads
AdSense Plugin WP Quads is one of the most popular Google Adsense Plugins on the WordPress platform. Although this plugin is fully responsive and comes with AMP support to make sure that your site and ads load quickly on all devices. In addition, this plugin allows you to migrate all your data and settings from the former to the later version. Besides this, you will also get the option to insert the ads individually or randomly anywhere within a post. With this plugin, you will be able to insert Adsense das anywhere on your post. Additionally, you can also import your old quick Adsense and continue with the same settings that you already love and use.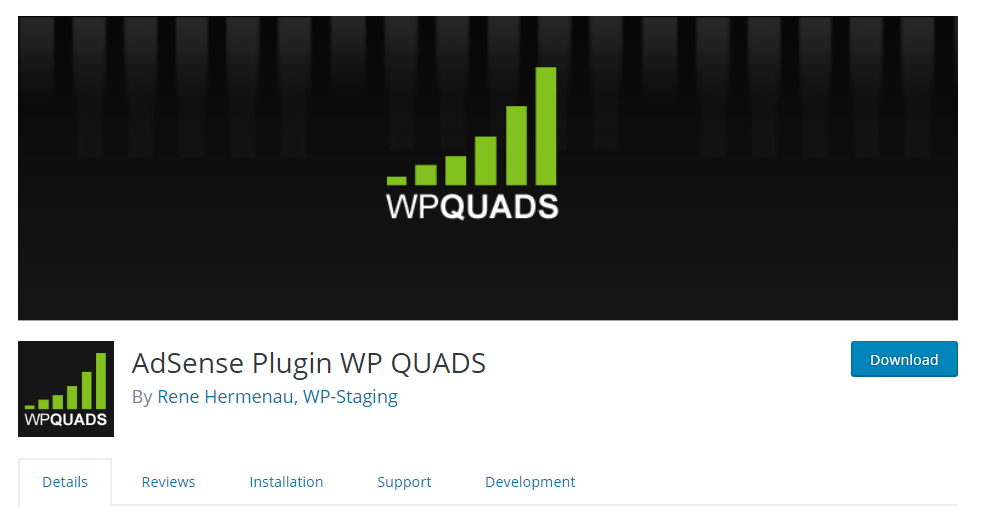 5. WP-Insert
WP-Insert is the most powerful yet easiest to use WordPress Google Adsense plugins. Although this plugin can do a lot of things about managing your Adsense ads and other advertisements as well. This WordPress Adsense plugin is configured to help you choose case both text and image-based ads. Additionally, it allows you to create unlimited ad blocks so that you can mix and match ads to make the best out of your site. Moreover, the plugin lets you publish the Google analytics code and also lets you add custom javascript code to footer/header parts of the blog.
6. Easy Google Adsense
Easy Google Adsense plugin is yet another WordPress plugin that makes Google Adsense monetization easier for WordPress. While the plugin will help you put advertisements on your page in a snap of a finger. Although this plugin offers you easy ads management and makes sure that your site doesn't get banned from the Adsense program by making you stick to their policies. Moreover, with this plugin, there is no need to manually add Adsense ads/code to different parts of your website. You just enter your Google Adsense Publisher ID in the settings and Google will automatically start showing ads at optimal times when they are likely to perform well for your website and provide a good experience for your users.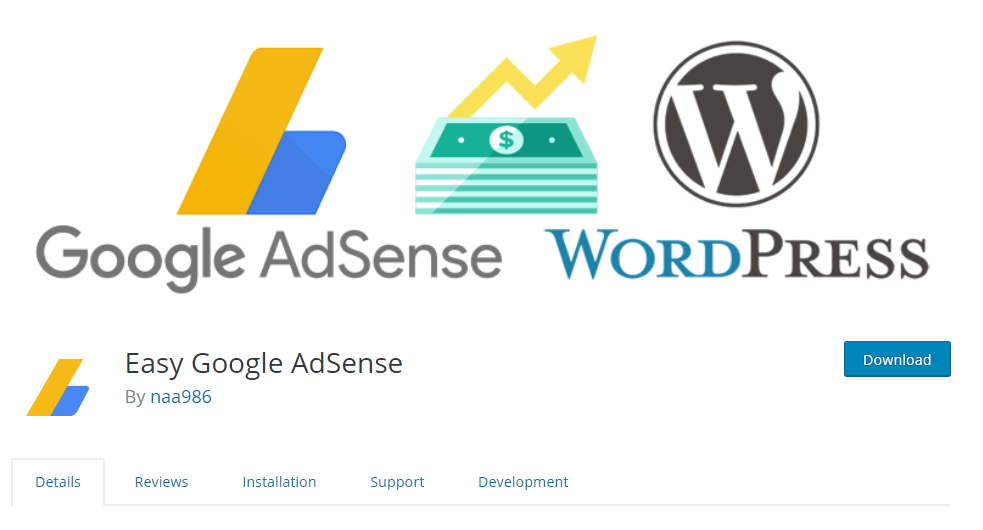 7. Google Adsense Plugins
Google Adsense plugin is a superb solution to earn money by placing ads to WordPress website pages, posts, custom posts, search results, categories, tags, and widgets. While the plugin is packed with plenty of useful features, and should more than suffice for your needs. The plugin lets you show different types of ads including text, image, and image ads, link blocks, etc. Furthermore, you will also find several positions for displaying the ads. In addition, you can choose a default color palette to choose custom colors for the ads. There is also the option to add your custom codes using the plugins settings page.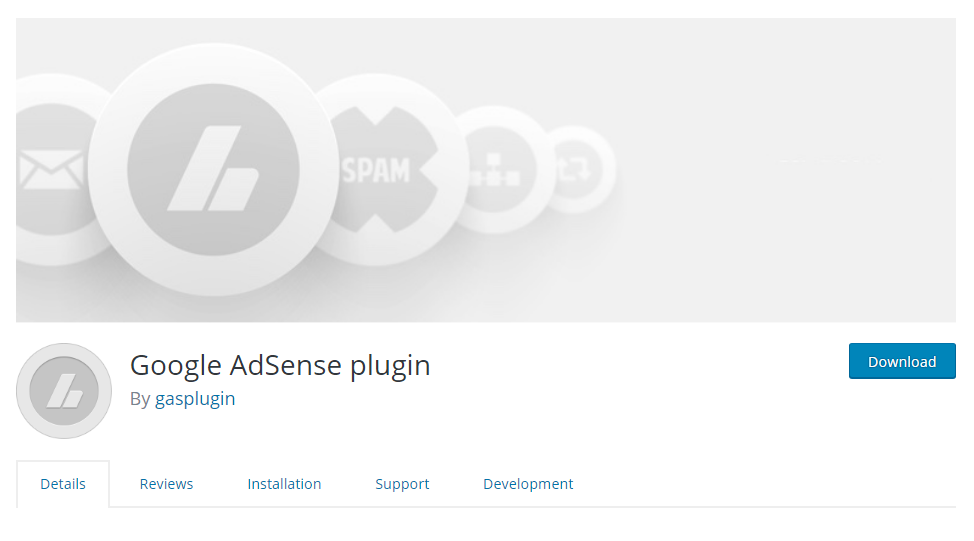 8. Quick Adsense
Quick Adsense is yet another Ads management WordPress plugin. It offers a quicker and flexible way to insert Adsense or any Ads code into a blog post. While it is straightforward to use and comes with a simple settings page. With Quick Adsense, you have quite a bunch of different options where you would like to place ads. Moreover, the settings section is user-friendly so everyone gets the most out of Quick Adsense. Additionally, you can also disable ads on the fly and add up to ten advertisements on a page or post. The plugin provides deep integration with video intelligence to provide enhanced features and for easy integration with their services.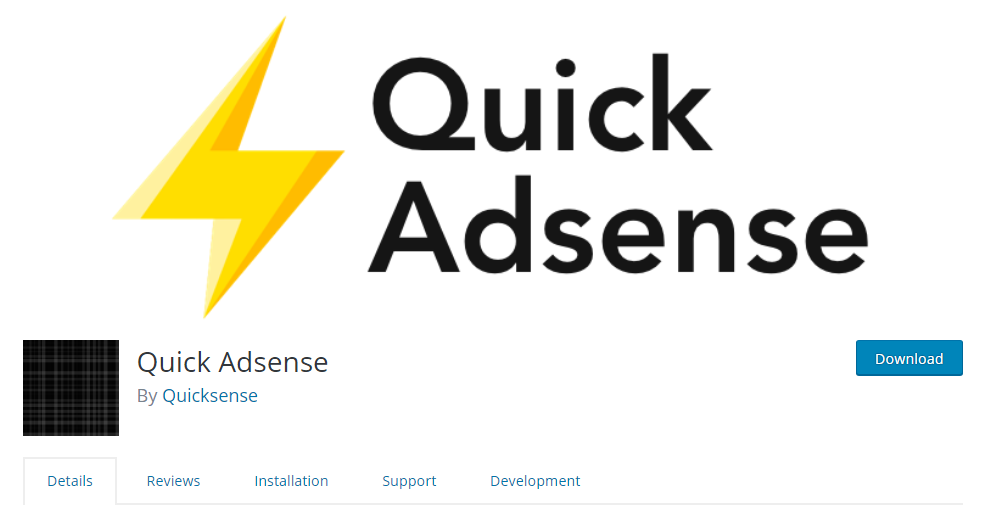 9. Google Adsense In-feed
Google Adsense in Feed is another best WordPress Adsense plugins. Although the plugin has full support for all types of Adsense ads even auto ads. Moreover, it fully supports AMP and caching plugins and shows an alternative ad to those folks who use an ad blocker. In addition, it is dedicated to Google Adsense ad type to monetize overview pages with a highly engaging layout and specialized options. This plugin was developed to place, manage and test ads on pages to increase revenue and usability. Additionally, it supports all Google Adsense types like units, responsive, in-feed, in-article and matched the content.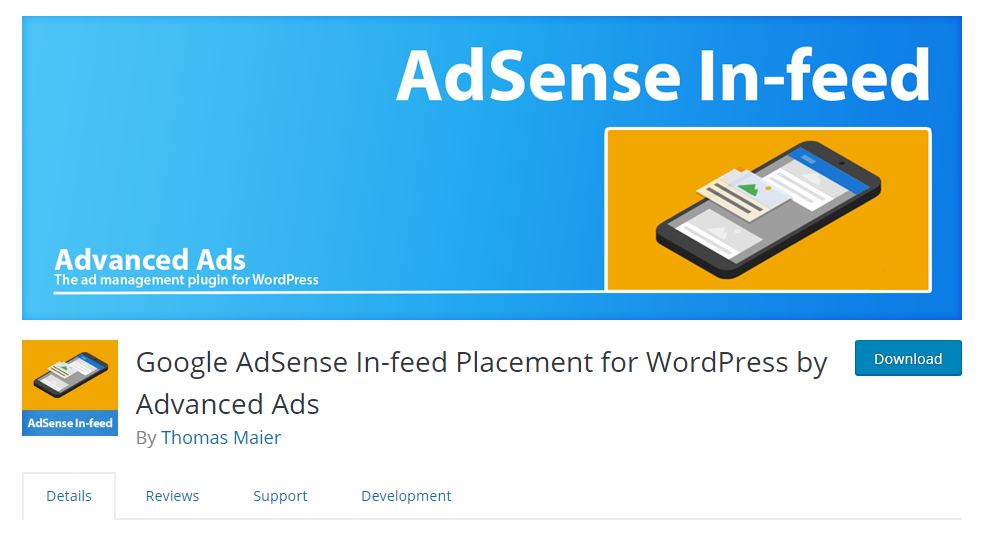 10. Adsense In-Post Ads
The Adsense In-Post Ads plugin allows you to save your most used Adsense ads codes and insert them as a shortcode in your pages or posts. This plugin offers you a simple shortcode option that you insert in your posts to make sure that you are able to display the advertisements. In addition, it will increase the odds that readers will click on the ad. Furthermore, this plugin also helps you to display your ads in a widgetized area of your pages such as the left or right sidebars, or in the header or footer of your page.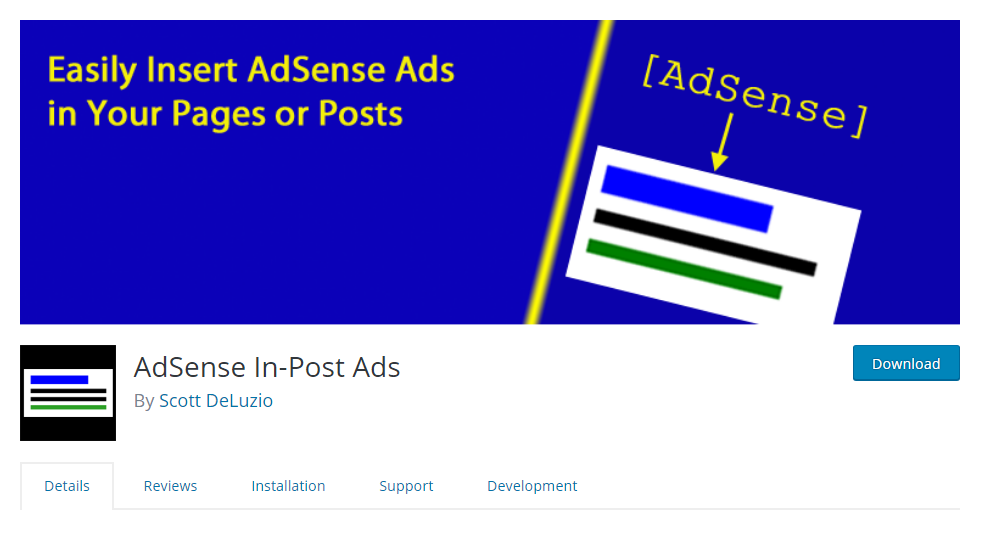 Wrapping Up
The above-mentioned plugins are some of the best WordPress Google Adsense Plugins. While these plugins will help you to manage your Adsense ads effectively. We hope you found the list to be useful. Select the best WordPress plugin and maximize the revenue from the blog post.

For more check our latest collection:
Best Travel Agency WordPress Plugins

Categories
free WordPress plugins
/
Google adsense plugins
/
manage ads