Yatra Plugin Review, A Popular Travel and Tour Booking Plugin
Do you love to travel? I think everyone loves it, don't you? If you want to make a better platform for a traveler, I guess you are in the right place. We all know WordPress is the best platform to create any website. It comes with several themes and plugins. Among all those plugins, Yatra is one.
Yatra Plugin is one of the best platforms to create a website for travel booking. With this, you will get almost all the features required for the travel booking process. Now booking your travel is easier with Yatra Plugin.
Yatra Plugin , one of the powerful WordPress plugins, is designed with attractive features. It is specially built for travel booking systems. With this, you can design a stunning website for travel and tour agencies. It is not only fast and flexible but also comes with an attractive layout. Here, you will get easy to use interface which will attract your visitors. Yatra has a dedicated support team who are always there for an instant reply to your query. Where you fetch issues, you can consult its support team. Hence, with Yatra, one can create a complete WordPress travel and tour system. 

Yatra possesses several amazing features. Some of its highlighted features are:
Highlights
Easy and flexible
Activity and Destination options
Custom Attributes
Unlimited FAQ Options
Fast and Easy to Use Interface
Flexible/Dynamic Pricing
Frontend Booking Calendar
Features of Yatra Plugin
Unlimited Travel and Tour Package
When it comes to traveling, we require several packages. With this, you can create several tour packages as far as your server can store. Here, you can include options like description, itinerary builder, price, sales price, duration, gallery, package included and excluded, map, and many more. So if you want to have one of the best travel agencies, you should with Yatra plugin for your traveling website.
Customization And Flexibility
The Yatra plugin is a very flexible and highly customizable WordPress plugin. So what makes it flexible. Well, it's because of hooks and filters. But the plugin is not limited to that. There are several additional features that make it one of the flexible WordPress traveling plugins. Also, you can easily customize your site as per your requirements.
Easy and Smart booking process
Whenever customers visit any travel and tour website, they hope they can easily proceed with booking. By keeping this fact in mind, developers keep Yatra easy to use. Website built with Yatra is easy to deal with. Anyone can visit and book their traveling plans with easy access.
Dynamic content
What is the first thing you look at on any website? Most of us look after its content and design, don't we? If you are implementing Yatra for your traveling website, you need not worry about it. Yatra customize your site with eye-catchy content and attractive design. It offers you several google fonts and an attractive design layout.
Translation Ready
It is translation ready and supports multiple languages. Now you can create your traveling website in your own national language. With this, you can grab the attention of your local people who actually can understand that language.
PayPal Payment gateway
The plugin is integrated with PayPal for payment methods. Whenever your customers book your traveling plans from your site, they will get this payment option.
Separate customer section
With Yatra Plugin, you design separate sections for your customers. You can easily keep a record of your user's activity and bookings. This will make your traveling agency more managed.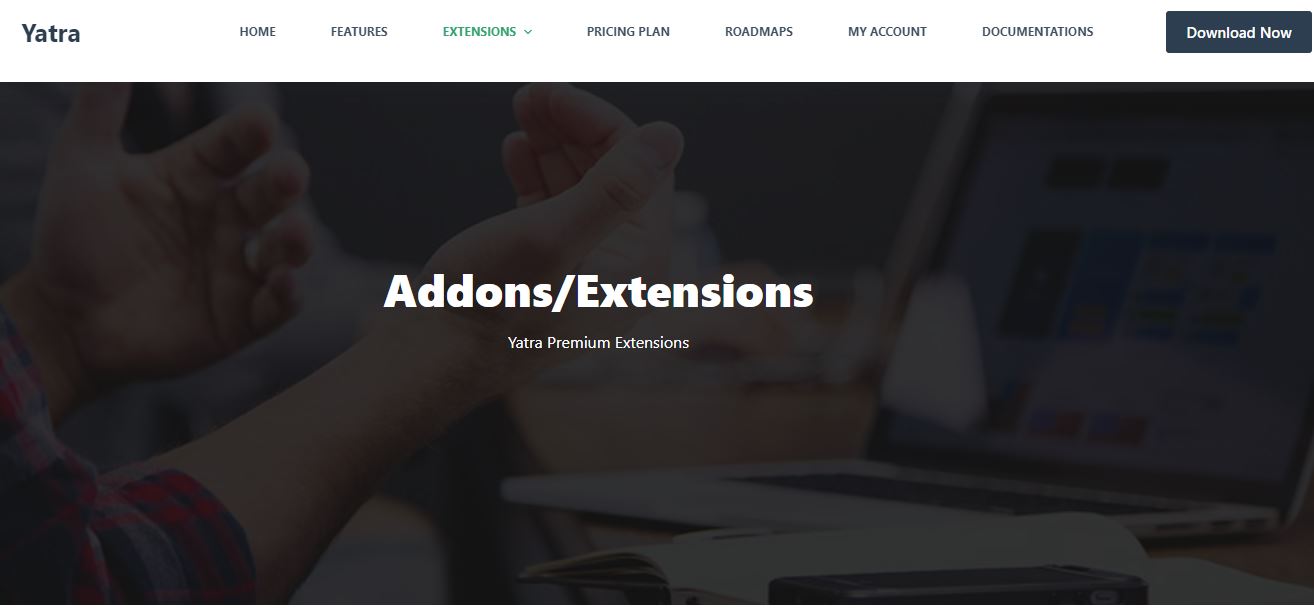 Yatra Stripe
The first premium addon of the Yatra Plugin is Yatra Stripe. It is a payment gateway of stripe.com that will provide support for your credit/debit cards. This will help your customer make an easy payment. Now no need to waste time for searching any other payment gateway. To use this, the user needs to make sure your website already has SSL.
Yatra Authorize.Net
Yatra Authorize.net, a premium add-on of Yatra free WordPress travel and tour plugin is another amazing payment gateway add-on. Like Yatra Stripe, this add-on will also support different types of credit/debit cards. Since it is user-friendly, anyone can book the tour package and make payment with their credit/debit card.
Yatra Razorpay
Yatra Razorpay is a payment gateway of Razorpay that too supports different types of credit/debit cards and banks.
Yatra Partial Payment
When you want to get the amount partially from the traveler, you must go with Yatra Partial Payment. You just need to set the required percentage of money to deposit. Once you set it, you can use any of these payment methods.
Yatra Downloads
Likewise, Yatra Downloads another amazing premium add-on that enables you to add additional files so that anyone can download those files from the frontend. This gateway is very useful for a tour operator to add brochures, tour guidelines pdf files,s and other costing details files.
Yatra Services
Yatra Services is used to add cleaning and other extra services along with your tour package. Also, you can easily customize the pricing as per tour package or individual person.
Yatra Availability Conditions
You can implement Yatra Availability Conditions to add different types of conditional logic for your tour packages. Whenever you want to book your tour plan for the weekend or each Sunday only or each month only, you can go with this addon. You just need to add logic for the availability/inquiry only or for not availability.
Yatra Review and Rating
Yatra Review and Rating allow you to add review and rating features for your tour packages. At the same time, you can easily enable/disable review and rating features.
How to install Yatra?
Since Yatra is an easy-to-use plugin and even easier to install. To install Yatra follow the given steps:
Go to the plugin area of your admin panel
Click on add new button
Type Yatra search box
Click on the install button and wait for a couple of seconds and click on activate button
Yatra is successfully installed on your website
Conclusion
Hence, from the above description, it is clear that Yatra is an amazing WordPress plugin for travel and tour websites. With this, one can customize their traveling website by adding elegant features to it. Also, its premium add-ons add eye-catchy features that will attract huge traffic.
Hopefully, you find this article useful. Feel free to contact us if you have any queries. We will get back with your answer as soon as possible.
Follow us on Facebook and Twitter for more interesting articles.
Also, have a look for Popular WordPress Crowdfunding Plugins for Fundraising.
Categories
Uncategorized